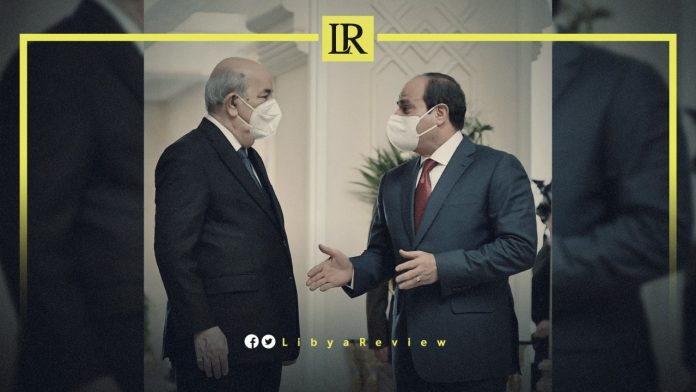 On Wednesday, Egyptian President, Abdel-Fatah El-Sisi held a telephone call with his Algerian counterpart, Abdelmadjid Tebboune. The two leaders discussed the latest developments in Libya, and confirmed their support for the ongoing efforts to achieve security and stability, while preserving its sovereignty.
They stressed the importance of enhancing Egyptian-Algerian coordination, to reinforce the will of the Libyan people. As well as reiterating their support for Libyan institutions.
President Tebboune confirmed that Algeria shares firm and outstanding historical bonds with Egypt. He added that he is keen on strengthening cooperation and coordination in all areas, notably in the economic and security fields.
They emphasised the need to improve bilateral channels of communications at the economic level, to increase trade and boost investments.
Both leaders agreed to prepare for the next round of the Joint Egyptian-Algerian Higher Committee, at the level of Prime Minister's, as soon as possible.
Last month, El-Sisi met with Tebboune and discussed the situation in Libya. He also met with Ramtane Lamamra, Algeria's Minister of Foreign Affairs. They agreed to support efforts to unify Libyan institutions, especially the military and security forces. This is in order to enhance international efforts to end the presence of foreign mercenaries and forces in Libya.
Prior to these meetings, Egyptian FM, Sameh Shoukry met with Lamamra, where he stressed the importance of supporting a Libyan-led solution to end the current crisis. He also underlined the need to stop any foreign interference in Libya's domestic affairs.
Shoukry reiterated the importance of the withdrawal of all foreign forces including mercenaries from Libya, to "achieve the aspirations of the Libyan people for security, stability, and prosperity."
Both sides praised their "distinguished" bilateral ties, underlining the need to strengthen cooperation and coordination in various fields. As well as highlighting their ambition to continue strengthening economic relations between both countries. Hafez pointed out that they also further discussed the latest developments in Sudan, Mali, and the Sahel and Sahara region.