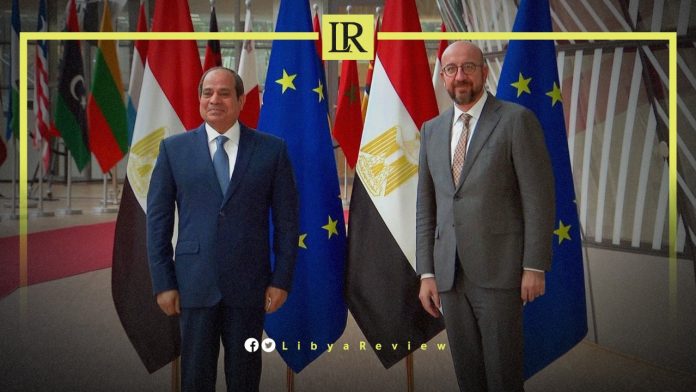 During a meeting in Brussel, they discussed Egypt-EU coordination on a number of regional issues, according to Presidential Spokesman, Bassam Radi.
Radi added that the two leaders agreed to continue supporting a political settlement in Libya.
Notably, Egypt welcomed the steps taken by the Libyan Parliament, in consultation with the High Council of State (HCS), regarding the appointment of Fathi Bashagha as the country's new Prime Minister.
In a statement, the Spokesman of the Ministry of Foreign Affairs, Ahmed Hafez said that Egypt has "confidence in the ability of the new Libyan government to expel all mercenaries and foreign forces out of the country, preserve Libya's unity and sovereignty, and pave the way for holding elections."
Hafez affirmed that Egypt is closely following the developments in Libya, and stressed that the "settlement of the Libyan crisis remains in the hands of the Libyan people alone, without any foreign interference."
He pointed out that the Libyan Parliament remains the only elected legislative body that is entrusted with enacting laws, granting legitimacy to the executive authority, and exercising oversight.
Hafez claimed that Cairo will also remain in contact with all Libyan parties, with the aim of "unifying views, ensuring regional security and stability, meeting the aspirations of the Libyan people, supporting comprehensive national reconciliation, and unifying state institutions."
He added that Egypt also continues to support the ongoing efforts of the 5 + 5 Joint Military Commission (JMC). This is to implement the outcomes of the Berlin Conference's, and Security Council resolutions, "regarding the exit of all foreign forces, foreign fighters and mercenaries from Libya without exception and within a specific time frame."
He called on all Libyan institutions, national powers and social components to, "uphold the country's supreme interest, maintain internal stability, and not be drawn into any suspicious calls for violence to spoil the current political efforts."