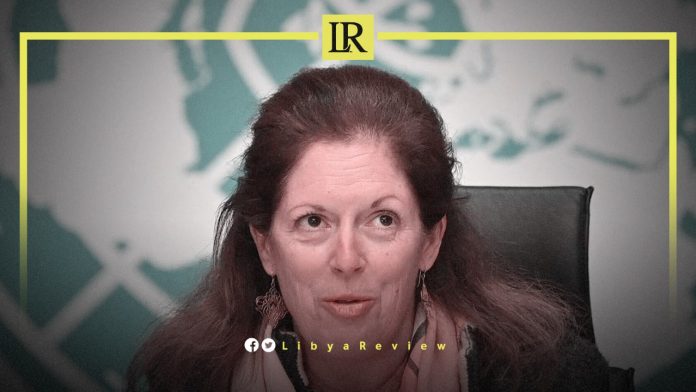 On Sunday, the Adviser to the Secretary-General of the United Nations (UN) on Libya, Stephanie Williams, said she had met with two members of the High Council of State (HCS), Belqassem Gzheit and Abdallah Jwain, to discuss the current political situation.
Williams said she emphasised the need for various Libyan political forces to pursue the broadest possible consensus, through an inclusive and transparent process.
Stephanie Williams renewed her call for all actors to maintain the focus on the electoral process as per the demand of the Libyan people.
Notably, the Head of the Libyan HCS, Khaled Al-Mishri, supported Parliament's decision to appoint Fathi Bashagha as the new Prime Minister, succeeding Abdelhamid Al-Dbaiba.
In a televised speech, Al-Mishri said that the vote of confidence last March for the Al-Dbaiba government stipulated that the term of the Government of National Unity (GNU) should end on December 24th, 2021, at the latest.
He added that the appointment of the influential former Minister of the Interior, Fathi Bashagha, to succeed Al-Dbaiba, was based on law and based on "a consensus between the HCS and the House of Representatives (HoR)."
Al-Mishri accused the Al-Dbaiba government of "launching a directed campaign against the HoR and the Supreme Council of the State."
The HoR considers that the mandate granted to the Al-Dbaiba government has expired, while Al-Dbaiba asserts that it will not transfer power except to an elected government.
Libya finds itself with two Prime Ministers in an institutional predicament that is not new. The country was ruled for years by two competing governments based in the East and West.
Earlier this month, the Speaker of the Libyan Parliament, Ageela Saleh, announced that Parliament had unanimously appointed Fathi Bashagha as the new Prime Minister.
Bashagha hails from the city of Misrata, and was the Minister of Interior of the previous Government of National Accord (GNA). He was a member of the Misrata Military Council, and fought against Moammar Gaddafi during the 2011 uprising.
In a speech Al-Dbaiba said that he would not hand over power until after elections. "Only elections will end the transitional stages," he claimed.