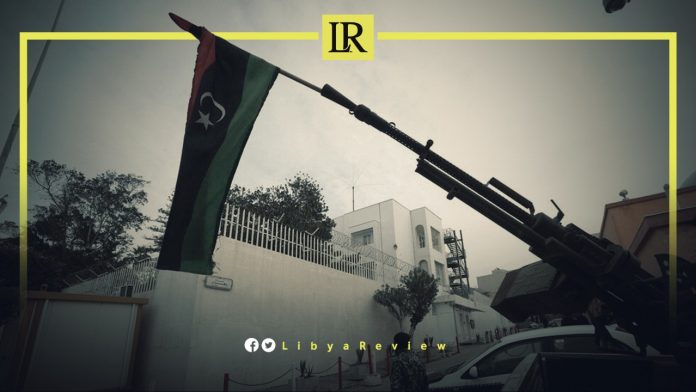 The Libyan Joint Operations Force to Combat Terrorism published videos of the confessions of a cell affiliated with the terrorist organisation "ISIS."
The men confirmed that some of them joined the extremist organisation in 2014 and 2016. They added that they participated in the armed attacks that took place in the city of Benghazi before moving to the South of Libya.
The men also revealed that they formed a secret cell in Tripoli led by the arrested terrorist Ahmed Al-Khashmi, nicknamed Al-Adnani.
The Joint Operations Force arrested all elements of the cell consisting of Sanad Al-Suwaii, Ahmed Ali Al-Khashmi, Tariq Abdul Salam Al-Obeidi and Abdullah Idris Al-Obeidi. The cell was stationed in Tripoli.
Last month, the Libyan National Army (LNA)'s Official Spokesperson, Major General Ahmed Al-Mismari, announced that 24 ISIS militants were killed during three-day long clashes against LNA forces near the town of Al-Qatroun in Southwest Libya.
Speaking during a press conference, Al-Mismari confirmed that an ISIS militant was arrested and four LNA soldiers were reported missing during the clashes.
He said the LNA directed its units to "hunt down" the ISIS militants who had escaped.
The Spokesman added that the army started off a large-scale operation in the southern outskirts of Qatroun, which is located some 200 kilometers from the border with Niger and Chad. It did so after detecting movements by ISIS cells around Mount Asida.
Several units of the LNA, including the Tariq bin Ziyad Brigade, the 73rd Infantry Brigade, and the 128th Military Battalion, took part in the operation. Libyan Air Force warplanes provided close air support for LNA troops advancing on the ground.
Notably, LNA forces conduct combing operations in the country's southern region periodically in order keep ISIS at bay. Despite this, the terrorist group's cells manage to launch attacks from time to time.