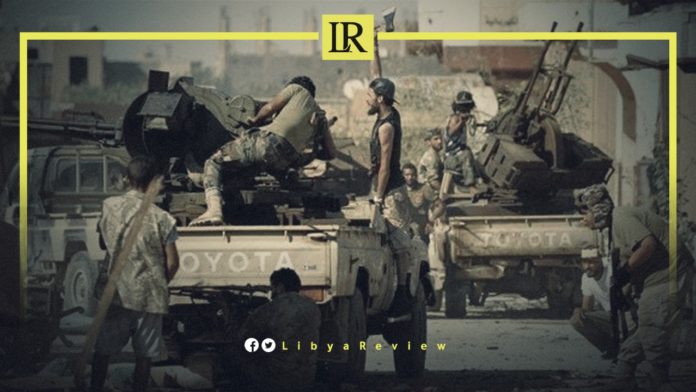 A Woman named Zahra Misbah Shadi, a mother of 4 children, was killed as a result of violent clashes between militias controlling the Warshafana region.
In the same context, eyewitnesses confirmed the outbreak of violent clashes, on Saturday afternoon, between armed militias in the areas of Warshafana, led by Muammar Al-Dhawi on the one hand, and a militia led by Ramzi al-Lafa. Such clashes led to the death of a female citizen and terrorized dozens of families in their homes West of the capital, Tripoli.
Last Friday, heavy clashes erupted between the militias of Mohamed Bahrun (Al-Far) who is affiliated with the Ministry of Interior in the city of Al-Zawiya, and the Stabilization Support Agency, led by Abdel-Ghani Al-Kikli (Ghneiwa), affiliated with the Presidential Council in Tripoli.
The clashes took place at the entrance to the city of Al-Zawiya, after the killing of a member of the Stabilization Support Agency. Various types of heavy weapons were reportedly used during the clashes.
Western Libya continues to suffer from the control of militias. A few weeks remain until the country's presidential and parliamentary elections are due to be held, according to the roadmap approved by the Libyan Political Dialogue Forum (LPDF). Despite the approaching date of the elections, the security situation does not bode well that an important and decisive event will happen soon.
Recently, Tripoli has witnessed a new wave of insecurity, chaos, and clashes between armed militias. Violent clashes erupted between Al-Far and Ghneiwa last week, leading to extensive damage to the Al-Zawiya Oil Refinery Complex.
Other clashes in the Al-Farnaj district of Tripoli took place between Ghneiwa and the Judicial Police Affiliated with the (RADA) Special Deterrence Forces led by Abdel-Rauf Kara.
Last month, an armed group affiliated with the 444th Brigade, stormed the house of the Commander of the Tripoli military region, Major General Abdel-Basset Marwan in the Soug Al-Jumaa district and assaulted him.
On the same day, the Libyan Minister of Sports, Abdel-Shafi Al-Juweifi announced that an armed group stormed the Ministry's headquarters in Tripoli, and assaulted several employees.
In the same week, the Commander of the 55th Infantry Brigade in western Libya, Muammar Al-Dhawi, survived an assassination attempt, the Brigade announced in a statement.
These events show that despite political progress being made, the country remains under the control of militias and armed groups.