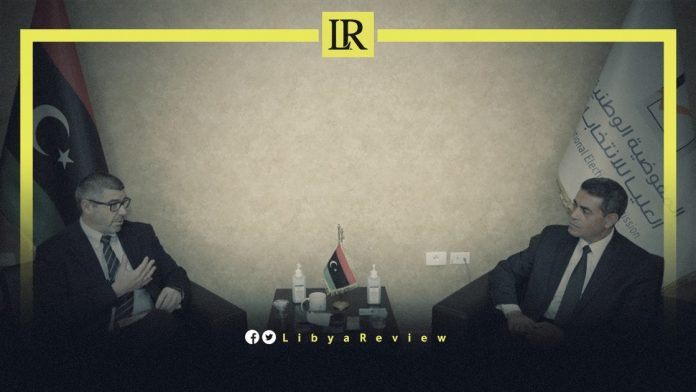 The Head of Libya High National Elections Commission (HNEC), Emad Al-Sayeh met with the European Union's Ambassador to Libya, José Antonio Sabadell in Tripoli.
The meeting discussed the latest developments in Libya's electoral process. They reviewed ways to strengthen the proposed tracks, in accordance with the new political developments, both locally and internationally.
Sabadell stressed that international support for the democratic path remains strong. This is to achieve the aspirations of the Libyan people, towards a secure and stable democratic state.
On Saturday, the Egypt Ambassador to the European Union, Badr Abdel-Aty met with the Chairman of the Foreign Affairs Committee of the European Parliament, David McAllister.
A statement issued by the Egyptian Foreign Ministry said that the meeting focused on the regional role played by Egypt to achieve security and stability in Libya, Syria, and the Sahel region.
In February, Egyptian President Egyptian President Abdel-Fatah El-Sisi and the President of the European Council, Charles Michel, agreed on the need to enhance channels of consultation on Libya
During a meeting in Brussel, they discussed Egyptian-EU coordination on a number of regional issues, according to Presidential Spokesman, Bassam Radi.
Radi added that the two leaders agreed to continue supporting a political settlement in Libya.
In November, Head of the High National Elections Commission (HNEC), Emad Al-Din Al-Sayeh said that a smear campaign was launched against the commission since the beginning of the voter registration in July.
He added that a number of opposition parties are behind these campaigns in order to obstruct the country's Presidential and Parliamentary elections slated for 24 December.
In press statements, Al-Sayeh stressed HNEC's commitment to implementing the electoral process as scheduled.