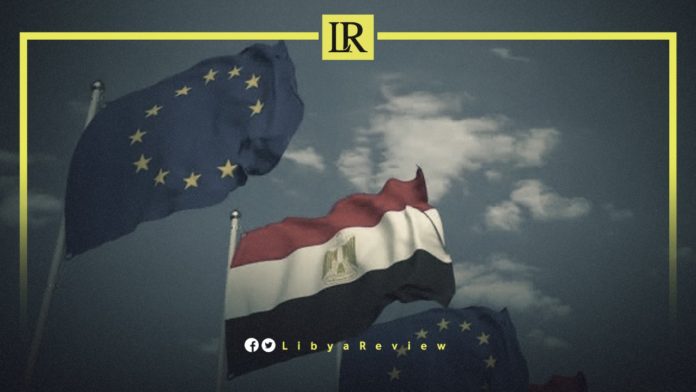 The Egypt Deputy Foreign Minister, Badr Abdel-Aty met with the Deputy Secretary-General of the European External Action Service (EEAS), Enrique Mora. They discussed a number of regional and international issues, including Palestine, Syria and Lebanon, and especially the latest developments in Libya.
They also discussed the situation in Afghanistan, and issues of disarmament and combating terrorism.
The political consultations were held in the presence of the European Union Ambassador in Cairo, and the deputy assistant foreign minister for African affairs.
Notably, the European Union's Spokesman for the Middle East and North Africa, Luis Miguel Bueno said that the EU plans to submit a project to support the upcoming Libyan elections in December, with a value of €21 million euros.
Bueno confirmed that Libya remains a priority for the EU, which strives to achieve stability in the region, and Libya in particular.
In a related context, the European Commission is planning to deliver new patrol boats to the Libyan Coast Guard. This comes despite reported violations against migrants in detention centers, where migrants intercepted at sea are often sent.
According to EU Observer, the boats will be used by the Libyans to intercept people at sea, and return them to Libya where most are likely to end up in such detention centres.
The European Commission said it had already delivered three rehabilitated boats, also funded by the EU. The delivery date for the new P150's remains unclear to the public.
The EU's statement followed a UN human rights council report, citing a litany of crimes at detention centers that, "may amount to crimes against humanity."
This includes "reasonable grounds to believe that acts of murder, torture, and rape against migrants form part of a systematic and widespread attack directed at this population. Further investigations are required to establish the role of all those involved, directly or indirectly, in these crimes."
Meanwhile, the European Commission denied any responsibility for facilitating their interception and return to the centers.
"The main objective of the support is to help contribute to saving lives," said a European Commission spokesperson, noting that detention centers need to be shut down.