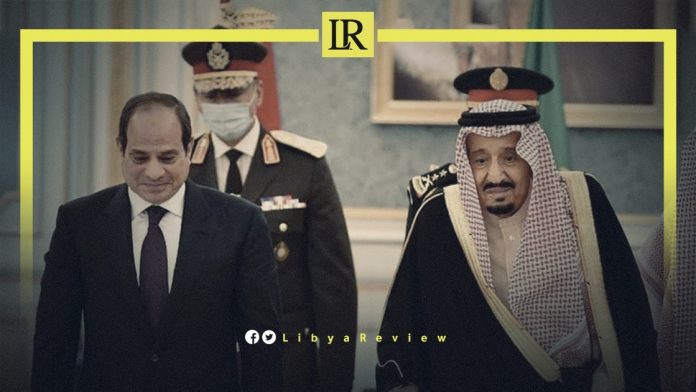 On Tuesday, Egypt President, Abdel-Fatah El-Sisi held talks with King of Saudi Arabia, Salman bin Abdulaziz Al Saud. They discussed bilateral relations, and a number of regional issues of common interest, especially with regard to the Libyan crisis.
During the meeting, the two leaders stressed the need to preserve Libya's stability, unity, and territorial integrity. As well as to support all efforts aimed at reaching a Libyan-led political solution. They called on all parties to reach a political and constitutional consensus, away from foreign interference.
The two leaders valued the recent decision by the Libyan Parliament to appoint a new government, headed by Fathi Bashagha. They confirmed that the Parliament remains the only elected legislative body entrusted with enacting laws, granting legitimacy, and exercising oversight.
They also stressed the need for foreign forces, mercenaries, and foreign fighters to withdraw from Libya. This is in accordance with Security Council Resolution No. 2570, and the outcomes of Paris Summit, the Berlin II Conference. As well as for the 5 + 5 Joint Military Commission (JMC) to continue its work to stop a resurgence of fighting, in order to preserve the security and stability of Libya, and the capabilities of its people.
On Thursday, despite months of UN-led efforts aimed at re-unifying state institutions, Libya found itself once again with two Prime Minister's. The Tripoli-based Abdel-Hamid Dbaiba, who has refused to cede power, and the former Interior Minister, Fathi Bashagha, who is backed by the Parliament in the east.
The move deepened divisions among rival factions, and raised fears that fighting could return after more than a year and a half of relative calm. Opposing armed groups have been mobilising in Tripoli over recent weeks, as the country's search for peace and a unified central government remains elusive.
The position of international powers will be key in the coming tussle for control of Libya. There is a heightened risk of renewed war, after a year and a half of comparative peace between major factions.