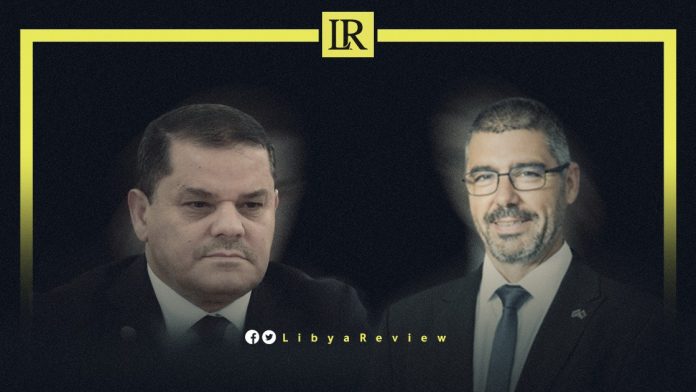 Ambassador of the European Union (EU) to Libya, Jose Sabadell informed Libya's Prime Minister, Abdel-Hamid Dbaiba of his concern over allegations of increased human rights violations in the country.
He also expressed the EU concerns about restrictions on movement, and the suspension of domestic flights, stressing the need to prevent any unrest in the oil sector.
This came during a meeting on Tuesday between Dbaiba, and a number of Ambassadors to Libya. Dbaiba claimed that he respected the Libyan people's desire to hold elections soon.
Notably, the United States Ambassador to Libya, Richard Norland called for the resumption of domestic flights in Libya. In addition to an end to the blockade of oil facilities.
On Monday, Norland retweeted the UN Advisor on Libya, Stephanie Williams. She called for the oil facilities to reopen, and the resumption of all civilian flights.
"Restoring flight service between east and west is an important signal of national unity at a critical time. We are prepared to assist in facilitating this as soon as possible. The oil blockade should also be lifted immediately," Norland said.
In her tweet, Williams pointed out that blocking oil production deprives all Libyans of their primary source of revenue. She also expressed her concern over the suspension of domestic flights. "Freedom of movement around the country is a basic right, and all civilian flights should be resumed," she stressed.
On Saturday, many Libyan travellers denounced the continued closure of Libyan airspace between Tripoli and Benghazi.
The suspension of domestic flights followed orders issued by Dbaiba. He ordered the closure of Libyan airspace, after the Libyan Parliament gave confidence to a new rival government, headed by Fathi Bashagha.
Dozens of citizens deplored the decision, saying it ignored the suffering of Libyan travellers.
Bashagha's office accused Dbaiba of using force to try to stop his cabinet from reaching Tobruk for the swearing-in ceremony. Three minister's were reportedly kidnapped, as they tried to drive to Tobruk. The GNU has not responded to these claims.
Airline sources said domestic flights were not operating, and a statement issued from the GNU Ministry of Defence warned against any armed convoy moving without prior permission.
The position of international powers will be key in the coming tussle for control of Libya. There is a heightened risk of renewed war, after a year and a half of comparative peace between major factions.