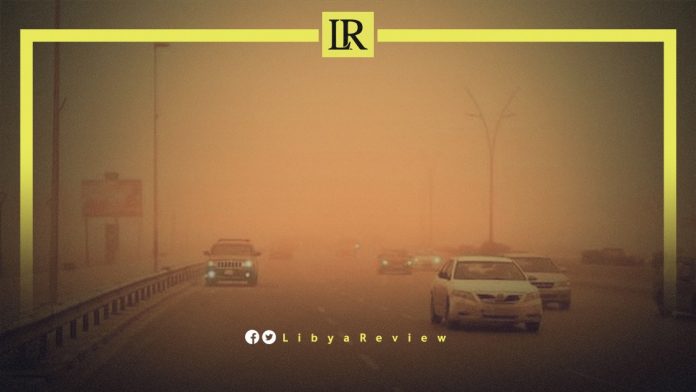 The European Union (EU) Border Assistance Mission in Libya (EUBAM) said that the capital, Tripoli, woke up to a dust storm that reminds us of climate change and its consequences that will change life as we know it.
In a statement, it added that in addition to what the capital witnessed, climate change will cause severe droughts, water scarcity, wild fires, sea level rise, floods, catastrophic storms, biodiversity decline, challenges in growing food.
EU explained that Libya is one of the countries in the world most affected by climate disasters and rising temperatures. It stated that the Libyans and the Libyan authorities must consider climate change and plan to mitigate its severe effects on the country.
Notably, the Ambassador of the European Union (EU) to Libya, Jose Sabadell, held a meeting with the Libyan Prime Minister, Fathi Bashagha, to discuss the latest developments in the Libyan file.
During the talks, the EU ambassador stressed the need to prevent escalation, avoid violence and find a political solution to the current impasse leading to Libyan elections.
He added that adopting an economic track can play a role to build confidence between the Libyan parties.
The EU diplomat also praised the role played by the Libyan Prime Minister in preventing the outbreak of armed clashes in Tripoli.
In turn, Bashagha emphasised that the government's main goal is to hold presidential and parliamentary elections and fulfil the aspirations of the Libyan people in living in a stable and democratic country.
On Thursday, Bashagha had a telephone call with the United Nations (UN) Secretary-General, António Guterres, to discuss the latest developments in the crisis.
Guterres expressed his "deep concern at the ongoing political polarisation in Libya, which carries significant risks for the hard-won stability," said Spokesperson Stéphane Dujarric.
"Guterres stressed the need for all actors to preserve calm and stability on the ground, while reiterating the UN's firm rejection for the use of violence, intimidation, and hate speech," said Dujarric.
Guterres added that the current stalemate required urgent dialogue to find a consensual way forward. He also emphasised his full support for mediation efforts carried out by his Special Adviser on Libya, Stephanie Williams.
The current crisis erupted after Libya failed to hold its first presidential elections on the 24th of December, under a UN-led reconciliation effort. The peace plan also involved installing an interim unity government last year. This was aimed at resolving the conflict between the country's main factions that split Libya in 2014, between rival governments in east and west.
The Libyan Parliament named a new Prime Minister, former Interior Minister, Fathi Bashagha, to lead a new interim government in February. Members of Parliament (MPs) argued that the incumbent Prime Minister, Abdelhamid Al-Dbaiba's mandate expired when the elections failed to take place.