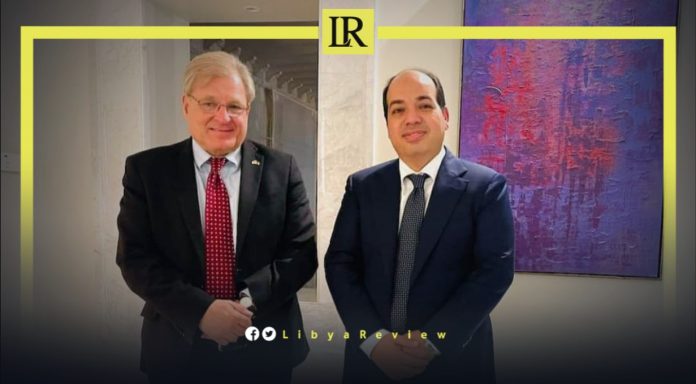 The former Libyan Deputy Prime Minister in the Government of National Accord (GNA), Ahmed Maiteeq, stressed the need for international support of the decisions made by the elected institutions.
This came during his meeting with the United States (US) Ambassador to Libya, Richard Norland, on Friday. The former official called for distancing the National Oil Corporation (NOC) from conflicts and stressed the need to preserve it.
He also had a phone call with the United Nations (UN) Special Adviser, Stephanie Williams, highlighting the importance of supporting the political track and moving forward to presidential and parliamentary elections.
Maiteeq explained that the next steps must be based on a consensual constitutional basis that fulfils the hopes of the Libyan people and ends the transitional stages. He confirmed the role of elected institutions and the legislative authorities. He also reaffirmed his support for their decisions aimed at preserving the unity of the country and preventing division.
The former Libyan official's meeting with the UN Special Adviser and the US Ambassador comes at a time when the Libyan Prime Minister, Fathi Bashagha, is leading a diplomatic movement to obtain regional and international recognition of his government. This occurred after the Head of the Government of National Unity (GNU), Abdelhamid Al-Dbaiba, refused to hand over power.
The Ambassador of the US to Libya held a meeting with the Head of the Libyan High National Election Commission (HNEC), Emad Al-Sayeh, in Tripoli.
The US Ambassador said, "it was encouraging to hear Al-Sayeh confirm the HNEC's readiness to conduct elections once a political agreement has been reached on the way ahead", according to a tweet published by the Embassy.
He added that the joint committee, including members of the Libyan House of Representatives (HoR) and the High Council of State (HCS) adopting a constitutional basis, represents the next practical step toward this goal. "We urge all sides to support this process," he noted.