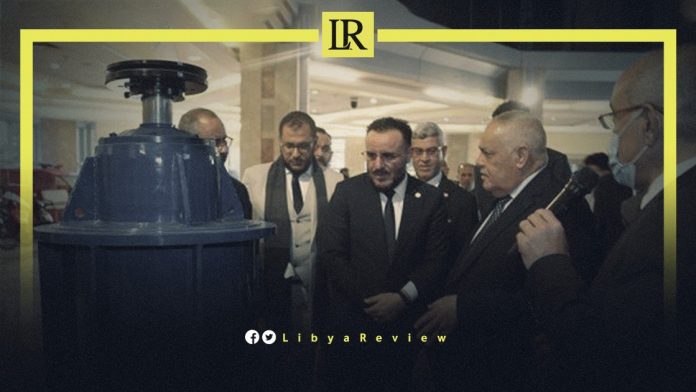 The introductory international conference for the activities of the Egyptian-Libyan Business Forum in the construction sector kicked off on Sunday.
This forum will be held on the occasion of the imminent launch of the activities of the international exhibition and conference for building and construction, Libya Construction Hub, to be held from the 16th to the 20th of May 2022 in Benghazi.
The conference will be attended by representatives of the official sector and the Egyptian and Libyan business community. It will be attended by the Head of the Joint Libyan-Egyptian Economic Chamber, Ibrahim Al-Jarari, and the Deputy of the Egyptian-Libyan Joint Economic Chamber, President of the Chamber of Commerce and Industry, Hassan Suleiman Al-Zibani.
It will also attended Brigadier Abdel-Jalil Ali Abdel-Karim, from the Military Investment Authority; Nasser Belabed Hassan, Benghazi Municipality Secretary; Eng. Alaa El-Din Saleh from Libyan Projects Authority; member of the Re-Business Fund, and Ibrahim Mohamed Ibrahim, consultant to the Libyan Projects Authority, Benghazi Municipality.
A group of Egyptian authorities and representatives of regional federations and chambers of industry and commerce will also attend. All available opportunities in the Libyan market will be presented and explained. All projects related to the sisterly Libya reconstruction plan, and the opportunities available in the areas of cooperation and joint investment, will be listed.
Urgent and long-term needs in the field of consultancy expertise, general and specialised contracting projects and building materials products will also be listed. The activities that will accompany the international exhibition and conference will also be reviewed.
Recently, The Head of the Libyan Parliament's Office, Abdullah Al-Masry Al-Fadil, inaugurated the fine arts exhibition in the Silphium Hall at the headquarters of the General Council of Culture in Benghazi.