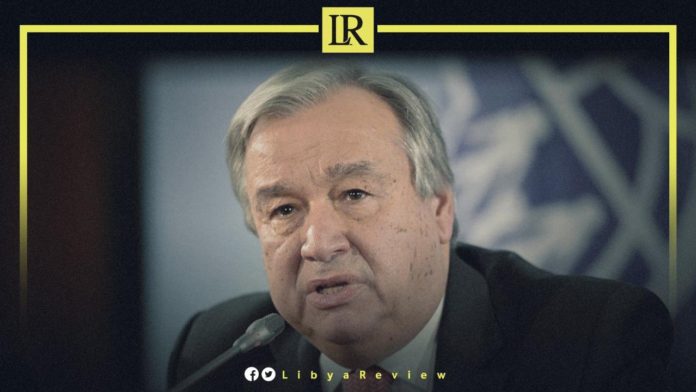 The United Nations (UN) Secretary-General, António Guterres, said the UN counts on the Arab League to continue to prioritise reaching agreement on an inclusive political process in Libya.
During his speech at the UN Security Council session held in New York, Guterres welcomed the "constructive engagement" of the Arab League in Libya. The Arab League helped maintain hard-earned unity and stability since the signing of the Libya's ceasefire in October 2020.
Regarding the global repercussions of the war in Ukraine, the UN secretary general said that the cooperation between the UN and the Arab League "is of a more urgent nature."
He noted that many countries import at least half of their wheat from Ukraine or Russia, including Libya, Sudan, Somalia, Lebanon, Yemen. and Egypt.
Earlier, the Secretary-General of the Arab League, Ahmed Aboul Gheit, warned that "the spectre of division is resurfacing again in Libya. This especially in light of the continued presence of militias, foreign forces and mercenaries."
Aboul Gheit highlighted the necessity of the departure of all mercenaries and foreign forces from the country.
The Arab League Chief added that, "foreign interference in the Libyan crisis contributes to complicating it, hardening the positions of its parties, and prolonging its duration."
Notably, Libya is currently facing a political crisis after Parliament swore in a new Prime Minister, former Interior Minister, Fathi Bashagha, to lead a new interim government in February. Members of Parliament (MPs) argued that the incumbent Prime Minister, Abdelhamid Al-Dbaiba's mandate expired when the elections failed to take place.
The incumbent administration has refused to cede power, amid the fallout from a failed attempt to hold national elections in December.