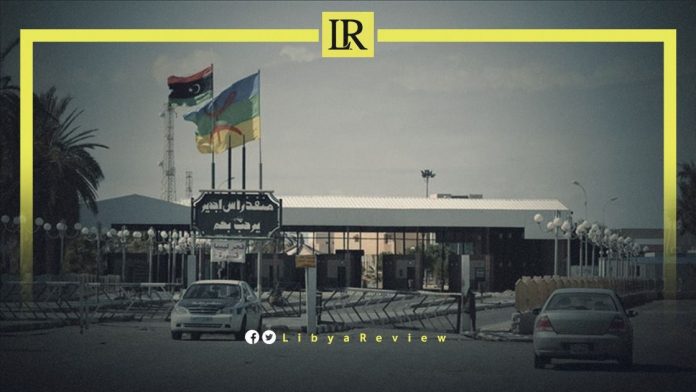 The Director of the Ras Jedir Border Crossing Directorate between Libya and Tunisia, Brigadier-General Salem Al-Akaak, said that 25,000 Libyans used the Tunisian crossing within the three days of the Eid al-Fitr holiday.
In a video recording broadcasted by the crossing's official page on Facebook, Al-Akaak added that the crossing witnessed long queues of Libyans during Eid Al-Fitr holiday.
He continued by saying that "many Libyans postponed treatment and tourism appointments in Ramadan, so we raised the degree of preparation for Eid Al-Fitr. We did not prefer anyone, except for some special emergency cases such as patients or official delegations, and their crossing was through the service corridor."
Al-Akaak explained that the authorities at the port conducted a questionnaire on several Libyans at the port. There was a state of satisfaction among the citizens. He noted that the transit movement returned to its normal pace after the holidays.
Last month, the Libyan Ministry of Interior's General Administration of Ports Security stressed that Tunisia must abide by the agreement of the Ras Ajdir border crossing.
In a press statement, the Libya Ministry of Interior said, "this agreement is based on the instructions of Minister Khaled Al-Tijani regarding the follow-up of work at the Ras Jedir port. As well as the development of solutions to the problems and obstacles facing travellers at this vital port linking Libya and Tunisia."
"The administration stressed to officials in Tunisia the need to open at least four transit lanes throughout the 24 hours, instead of the two previously established to serve Libyans. Especially after the port witnessed smooth transportation," the statement added.
The Libya Chamber of Commerce, Trade, Industry, and Agriculture hosted a delegation from Tunisia. This was led by the Head of the Chamber of Commerce, and Industry of Sfax (CCIS), and a number of representatives of major Tunisian companies. The parties discussed strengthening cooperation, and raising the levels of bilateral trade.
They also discussed aspects of cooperation in trade and industry, as well as the implementation of joint investment projects. This took place with the aim of localising industries, and organising joint events to exchange experiences and expertise.