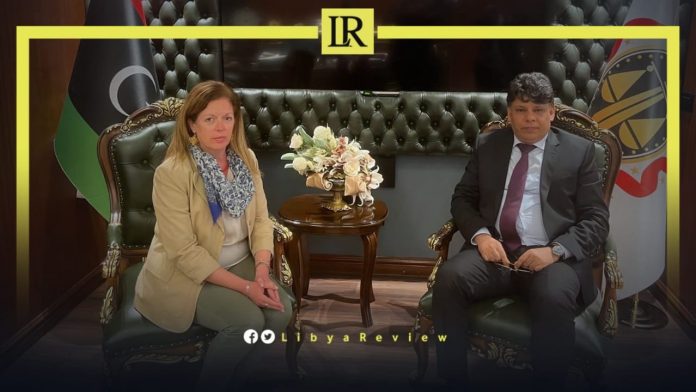 The UN Secretary-General's Adviser on Libya, Stephanie Williams met with Libya's Attorney General, Al-Siddiq Al-Sour to discuss the investigations regarding the mass graves in the city of Tarhuna.
Williams said she had a productive meeting with Al-Sour on Wednesday. The meeting also dealt with the "recent campaign of arrests of civil society activists."
"I also discussed with the Libyan Attorney General the appointment of new judges to the Supreme Court, and his office's efforts to verify the national number system," Williams tweeted on Thursday.
Williams visited the city of Tarhuna, 90 km southeast of Tripoli, a city that "witnessed mass and targeted killings and large-scale atrocities," the United Nations Support Mission in Libya (UNSMIL) said in a statement.
Facilitated by the Association of Tarhuna Victims at the Al-Zaytouna University, Williams listened firsthand to the families of the victims and survivors of gross human rights violations, perpetrated by the Kaniyat militia. These included extrajudicial killings, torture, enforced disappearances, and inhumane treatment of detainees.
Williams visited two mass graves where 220 bodies, including eight women and three children, have been exhumed. As well as two detention centers where dozens of men and women were arbitrarily detained and brutally tortured.
"Today in Tarhuna I saw the mass graves and inhumane solitary detention cells where hundreds of victims were tortured and killed," Williams said.
"I offer my deepest condolences and express my solidarity with the families of the victims. There is nothing I can say that can bring back your loved ones, but I can assure you that the United Nations will support your pursuit for justice, accountability, and an end to impunity so that the perpetrators do not go unpunished," she added.
Williams stressed the importance of ensuring full documentation of the human rights violations, including the "identification, demarcation, and collection of evidence from the mass graves in conformity with international standards and practices."
She also underscored the immediate need for psychosocial support to the family members of the victims, primarily the children and women.