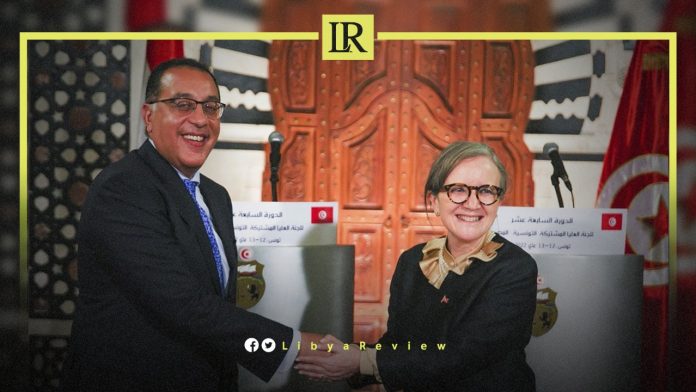 Tunisian Prime Minister, Najla Bouden and her Egyptian counterpart, Mostafa Madbouly stressed the need for all foreign forces to leave Libya.
During a press conference, after the 17th session of the "Tunisian-Egyptian Joint Higher Committee," the two sides stressed the need for mercenaries and foreign fighters to withdraw completely.
"We reviewed the developments of the Libyan crisis. We renewed our countries' support for the established principle that the intra-Libyan dialogue, without any external interference is the only solution, until Presidential and Parliamentary elections are held," Madbouly said
"There is a strong position for Egypt in this regard. It requires respect for the responsibilities of Libyan institutions, the unification of the military institution, and the dismantling of militias," he added.
Madbouly referred to the Egyptian efforts, which included hosting the work of the Constitutional Track Committee, leading to a comprehensive settlement of the crisis in Libya.
The two sides stressed the need for all foreign forces, and mercenaries to withdraw from Libya within a specified timeframe. This is in line with relevant United Nations Security Council resolutions, and the Berlin and Paris conferences.
The talks covered the latest developments in the Palestinian Territories, with both PM's underscoring the legitimate rights of the Palestinian people.
Bouden expressed her satisfaction with the level of bilateral coordination and consultations, and the ongoing contact between both leaderships.
The Tunisian PM said she was looking forward to "bolstering these ties and coordinating high-level visits by senior officials, amid global changes and joint challenges."
She revealed that 11 agreements were signed during Madbouly's visit. These covered international coordination, investments, exports, participation in international exhibitions and markets, financial audits, higher education, agriculture, environment, construction, information technology, communications, and women's affairs.