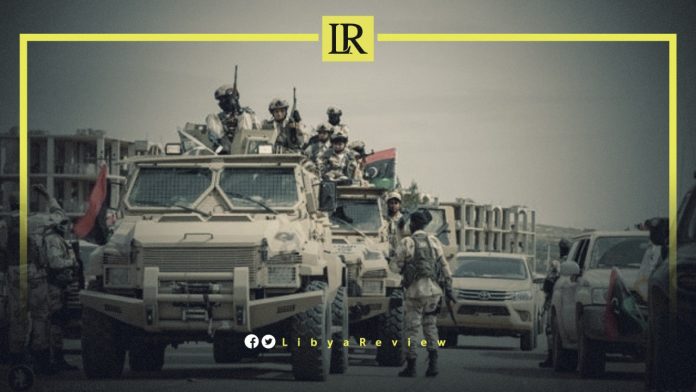 On Sunday, the Director of the Moral Guidance Department of the Libyan National Army (LNA), Major General Khaled Al-Mahjoub denied the closure of the Libyan border with Algeria.
Al-Mahjoub confirmed that the Libyan Army "did not close any common borders with any country. Any news circulated regarding the closure of Libyan-Algerian borders, on the instructions of the LNA Commander, are merely fabricated rumours."
The Libyan military official stressed that "false news is a part of continuous lies by the Muslim Brotherhood-affiliated parties, who are trying to destabilize the country, and undermine its military leaders."
Notably, rival Libyan officials resumed talks in Cairo, as part of the latest UN-led efforts to reach an agreement on constitutional amendments for the elections. This comes as Libya again finds itself at a political impasse.
Twelve lawmakers from Libyan eastern-based Parliament, and 11 from the Tripoli-based High Council of State (HCS) attended the talks. The first round, also held in Cairo last month, did not achieve any results. The failure to reach an agreement on the election's legal basis, was a major factor that caused the December elections to be delayed.
This was a blow to international efforts to end a decade of chaos in Libya. Two rival Libyan governments are now claiming power and legitimacy, after tentative steps toward unity in the past year.
The oil-rich country has been wrecked by conflict since the NATO-backed uprising toppled and killed longtime ruler Muammar Gaddafi in 2011. The country has for years been split between rival administrations in the east and west.
In February, the Parliament elected former Interior Minister, Fathi Bashagha to lead a new interim government. MP's claimed incumbent PM, Abdel-Hamid Dbaiba's government had expired when the elections failed to take place as planned.
Dbaiba has however remained defiant against replacing his government, insisting that he will hand over power only to an elected administration.
Bashagha has yet to enter Tripoli, with calls mounting to have his government seated in the central city of Sirte. The city serves as a link between Libya's eastern and western regions.
The stand-off worsened in the past weeks with occasional infighting between militias, and a partial oil blockade amid the global energy crisis.