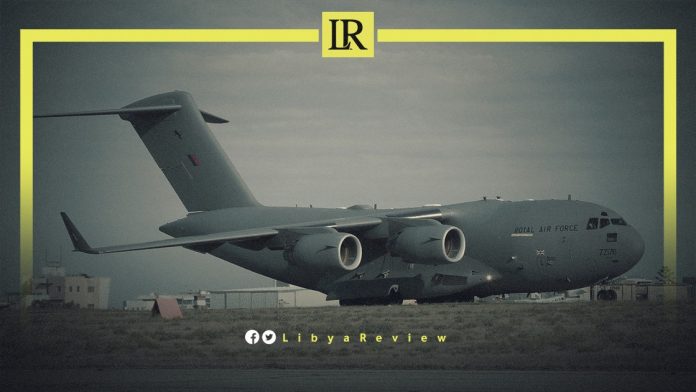 The Italian website ItaMilRadar revealed that a British military cargo plane arrived in the Libyan city of Misrata on Saturday.
The website tracked the Lockheed C-130 Hercules
military transport aircraft, registration number ZZH868, on a flight from the United Kingdom (UK) to Libya.
ItaMilRadar explained that the plane left from the RAF Brize Norton base located about 75 miles Northwest of London at 10:10 CET and landed in Misurata at about 14:54 CET.
The plane was last seen until 15:45 CET, when it was still in Misurata.
Last month, the global air traffic website, Flightradar24, tracked a Turkish military Lockheed C-130 Hercules cargo aircraft, arriving at the Al-Watiya airbase from Ankara.
Turkey continues to send military aircrafts to Libya, with more than ten planes landing at the Uqba bin Nafi Airbase in the Watiya region.
The planes are believed to be transporting military supplies, despite the fact that the United Nations (UN)-brokered ceasefire agreement stipulates that all military cooperation with foreign nations must be halted.
Turkish Defence Minister, Hulusi Akar, stated that the Turkish soldiers and Syrian mercenaries would remain in Libya to preserve Ankara's interests.
The UN estimates there are over 20,000 foreign fighters and mercenaries in Libya, helping both sides of the conflict.
In April 2019, the Libyan National Army (LNA) led by Khalifa Haftar launched an offensive on Tripoli. The previous Tripoli-based Government of National Accord (GNA) requested help from Turkey in November 2019, to avert an LNA takeover. Ankara soon began to airlift thousands of Syrian mercenaries, and an array of weapons to support the GNA.
The ceasefire agreement also demands the withdrawal of all mercenaries and foreign fighters from the country. A number of Libyan politicians have called for the closure of airspace to Turkish aviation.