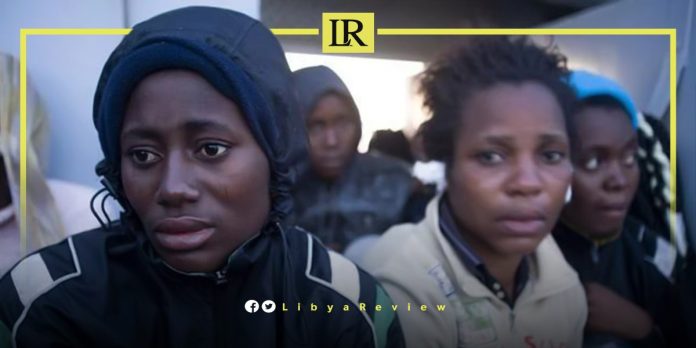 A Nigerian migrant who returned to her country told a Federal High Court in Nigeria that she was enslaved in Libya as a commercial sex worker, according to Premium Times News.
The woman was testifying in a case of alleged human trafficking instituted by Nigeria's National Agency for the Prohibition of Trafficking in Persons (NAPTIP) against a Nigerian businesswoman called Ayomide Philip.
"When I met Philip in the Nigeria's city of Ibadan, she assured me that she will safely take me to Europe through Cairo to get a decent job," she told the court.
"After paying the 10,000 Nigerian Niara she requested from me, Philip took me through Kano, Agadez, Niger through the desert until we reached Tripoli. She then introduced me to her Arabian lover, named Abora, and they both informed me that I must pay 5,000 Libyan Dinars, that is the Libyan currency if I want to get a job," she added.
"I agreed and they got me a job as a housemaid and I was paid 1,800 Libyan Dinars which Philip seized from me," she said.
She claimed that Philip convinced her to engage in commercial sex work to earn more money to pay her debts.
"I worked in three different connection houses, where I made 6,000 Libyan Dinars. A Libyan businesswoman, known as madam Aisha, owned one of the connection houses," she said.
"I got tired of doing the work and I told Philip that I will not pay the 5000 Libyan Dinars she and Abora had imposed on me. As a result, Philip threatened to kill me. Not long after that, I was arrested by Libyan immigration officials and deported to Nigeria in April 2017," she concluded.
In February, Pope Francis denounced the concentration camps in Libya, where migrants and asylum seekers are detained in unsuitable centres.
"In Libya there are concentration camps. It is urgent to rethink about migration policy," the Pope said in a sermon on Sunday in Rome.
He called on the European Union (EU) to reach an agreement to avoid that the burden of management falls only on some countries. The Pope recalled the tragedies of migrants crossing the Mediterranean, "which has now become a cemetery."
Amnesty International said many of those who have been returned to Libya — including women and children — are held in government-run detention centres where they suffer from abuse, including torture, rape and extortion.