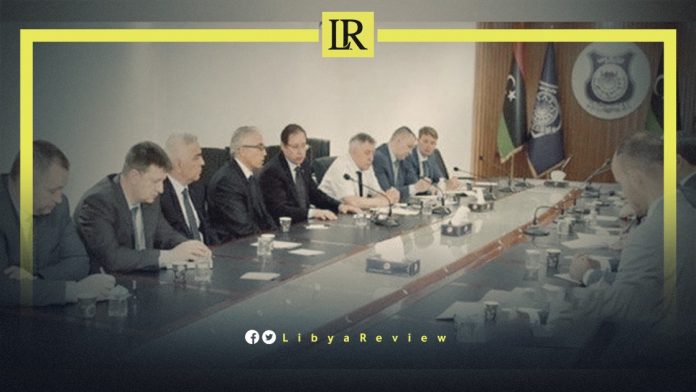 A number of Libya security officials and a delegation from the Russian Foreign Ministry met at the headquarters of the General Administration for the Protection of Diplomatic Missions in Tripoli. Both sides discussed security mechanisms and arrangements for reopening the headquarters of the Russian Embassy in Libya.
The meeting was attended by the Director of the General Department for the Protection of Diplomatic Missions, Major General Wissam bin Jameh, and the Director of the Relations and Cooperation Department, Brigadier Salah al-Din bin Suleiman.
From the Russian side, the Head of the Russian delegation and Deputy Director of the Political Planning Department of the Russian Foreign Ministry, Eder Iganin; Chargé d'Affairs of the Russian Embassy in Libya, Jamshid Poltaev; Assistant Russian Military Attaché, Dmitry Molodtsov, and Deputy Director of the Security Directorate of the Russian Foreign Ministry, Ivan Shuker, were also present.
Notably, a United Nations (UN) panel of experts said in a report that the arms embargo imposed on Libya by the Security Council in 2011 remains "totally ineffective." It added that civilians, including migrants and asylum seekers continue to suffer widespread rights violations and abuses.
The panel said it identified 18 arms transfers and four examples of military training between March 2021 and late April 2022 that violated the UN arms embargo.
According to the report, Libya faces a serious security threat from foreign fighters and private military companies, which have violated international law.
The experts also accused seven Libyan armed groups of systematically using unlawful detention to punish perceived opponents. They are ignoring international and domestic civil rights laws, including laws prohibiting torture.
In particular, "migrants have been extremely vulnerable to human rights abuses and regularly subjected to acts of slavery, rape, and torture," the panel said in the report to the UN Security Council obtained by the Associated Press (AP).