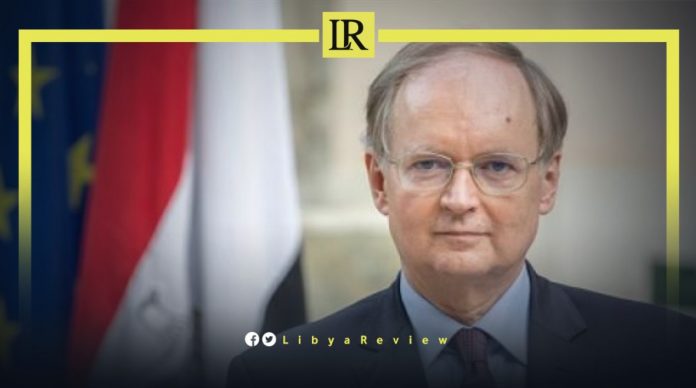 On Sunday, the Head of the European Union (EU) Delegation to Egypt, Christian Berger, said that there is an Egyptian-European consensus on the need to strengthen the political process in Libya, leading to the parliamentary and presidential elections.
In his statement before the meeting with the Association Council between Egypt and the EU, Berger added that the situation in Libya will be a top priority for the Luxembourg meeting between Egyptian President Abdel Fattah El-Sisi and President of the European Commission Ursula von der Leyen.
Notably, the EU announced that it would launch a new project 'E-NABLE' in Libya. The project aims to support key economic institutions in introducing digital economic governance tools, and improving digital services for businesses.
In a statement, the EU said that the three-year project (2022 – 2025) aims to promote an investment-friendly and conducive business environment, strengthen the private sector, and thus contribute to economic growth in Libya.
"The launch of the E-NABLE project is necessary to support Libyan institutions to keep pace with the digital transformation happening in the world. Digitisation is the future because it supports the creation of a dynamic economy, and contributes to supporting a new competitive private sector with good governance," said Mohamed Al-Huwaij, Minister of Economy and Trade in Libya.
"Economic governance going digital is key for Libya's private sector to develop, and the economy to grow. E-governance makes government services quicker and more efficient, so businesses and entrepreneurs can focus on their core tasks: business and innovation," said EU Ambassador, Jose Sabadell, at the launch of E-NABLE in Tripoli.
"Digitalisation and adapting governance systems to our digitalised world are key priorities for the EU. We heavily invest in this area in Europe, and cooperate with partners around the world to bring the digital transformation forward – also in Libya," he added.
The project will be implemented by Expertise France, and involve key Libyan economic institutions including, the Ministry of Economy and Trade, Ministry of Planning, Ministry of Finance, Central Bank of Libya (CBL) and the Chambers of Commerce. It will also work with Libyan tech and telecommunication partners such as the General Information Authority, the Libyan Post Telecommunications & Information Technology Company, and several public and private tech companies.