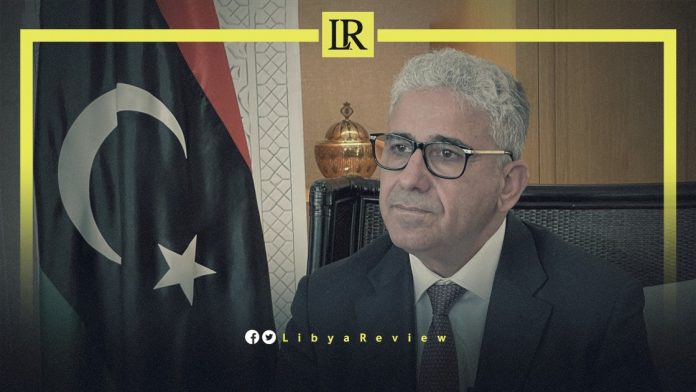 On Monday, Libya's Prime Minister-designate, Fathi Bashagha announced a national and comprehensive roadmap that will "steer the country to elections and beyond, following a decade of turmoil and missed opportunities."
In a statement, he said that the roadmap "comes in line with the requirements of the current stage, and responds to the aspirations of the Libyan people for a prosperous future. This is by holding comprehensive elections, and ensuring the peaceful handover of power."
The roadmap announced came under the rubric "The Roadmap to Stability and Recovery."
Bashagha said, "Libya stands today at a fateful and critical crossroads in order to ensure a better and sustainable future that our people deserve, and aspire to."
He explained that the roadmap "includes the most important steps to achieve stability, by enabling the Libyan people to exercise their legal and national rights to enjoy security and prosperity."
He indicated that the steps included three points, represented in "holding free and fair Presidential and legislative elections, working to establish peace, security, and stability, and achieving economic prosperity."
Bashagha vowed to hold free and fair elections as soon as possible. He also promised to focus on financial accountability through the General Budget Law, which was recently adopted by the Libyan Parliament for the first time in eight years.
He confirmed that the budget law will "help rationalize spending, and significantly reduce the rate of corruption, which has become rampant throughout the state." As well as adding the need to pay further attention to the safety and security of all Libyans, in addition to "ensuring their legal ability to cast their votes without fear of reprisal or physical harm."
The PM-designate also voiced his commitment to maintaining the ceasefire agreement, and supporting the work of the 5+5 Joint Military Commission (JMC). In order to end the state of conflict, and unify the armed forces. He called for the "full integration of armed groups under government control, and establishing a clear command system that ends clashes and violence among all armed groups."
Bashagha promised to protect the "full right of everyone to vote or run for elections, with a special focus on empowering young men and women to broadly participate in political life."
He highlighted the importance of maintaining the stability of oil production by ensuring the continuous flow of oil without any interruption. As well as providing the necessary funding for the National Oil Corporation (NOC), to improve its production capabilities and infrastructure.
This is in addition to urging the international community and other concerned parties, including the United Nations Support Mission in Libya (UNSMIL) to maintain peace through elections, and enhance close work with the Presidential Council in support of its reconciliation efforts.
To accomplish this, he said changes need to occur in eight specific areas:
Stabilization of basic services
Transparency and accountability
Fiscal accountability and stability
Safety and security
Full franchise to all
Stabilization of oil production
Fighting corruption
Support from the international community