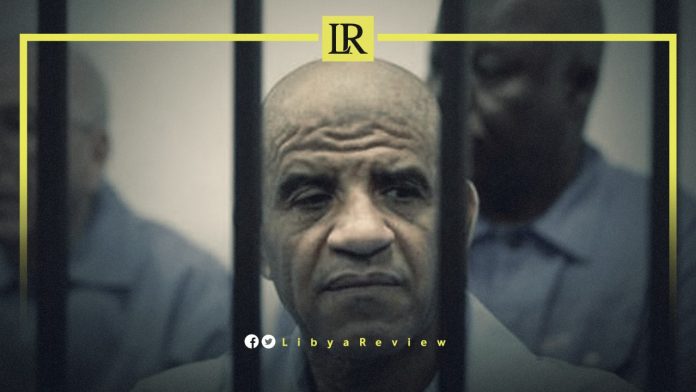 On Tuesday, the Libyan Court of Appeals adjourned the trial of Gaddafi-era Intelligence Chief, Abdullah Al-Senussi until 8 August, over the Abu Salim prison massacre.
The defendants included Al-Senussi, and another senior Libyan Intelligence official, Abdullah Mansour.
The case has been recently referred to the military judiciary, after the Libyan civilian court ruled that it lacked jurisdiction because the accused was a military officer his lawyer Ahmed Neshad said. He also demanded a health pardon for his "sick" client.
"My client's health condition requires medical care that is not available to him in his prison cell. He underwent a heart catheterization operation two months ago. The medical recommendations are clear about the necessity to get a health pardon to follow up his health status in capable hospitals," his lawyer explained.
In May 2021, the Second Criminal Chamber of the Supreme Court decided to overturn the statute of limitations ruling issued in 2019. The court returned the case for consideration by another criminal chamber of the Tripoli Court of Appeal.
Abdullah Al-Senussi, brother-in-law of longtime leader Muammar Gaddafi, was sentenced to death in 2015, alongside eight other senior officials. This was over his part in the regime's response to the NATO-backed uprising in 2011.
The Abu Salim Prison massacre took place on 29 June 1996, allegedly killing about 1,269 prisoners, after an attempted prison break. Most of the dead belonged to Islamic groups, and although the majority of them were Libyans, several Arab nationals were reportedly killed.
Relatives and members of Senussi's tribe, the Magerha, gathered in a central Tripoli square in 2019 to demand he be freed over health concerns. "The law and medical reports support our legitimate demand," said one protester, Mohamad Amer.
Al-Senussi was extradited in September 2012 by Mauritania, where he had fled after Gaddafi's fall. Similarly to Gaddafi's son Saif Al-Islam, he had also been the subject of an International Criminal Court (ICC) arrest warrant for suspected war crimes during the 2011 uprising.
In an unusual move in 2013, the court gave Libyan authorities the green light to put him on trial. He has since been imprisoned in the capital, along with some 40 other senior Gaddafi-era officials, including Gaddafi's last Prime Minister, Baghdadi Al-Mahmoudi.