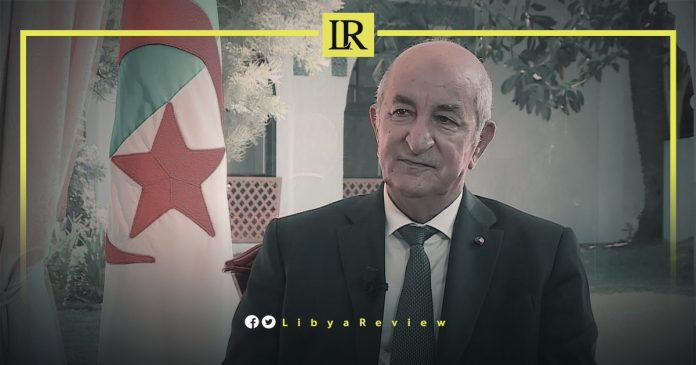 Algeria President, Abdelmadjid Tebboune stated that elections are the only legitimate solution to end the ongoing crisis in Libya.
In an interview with Algerian state television on Sunday, Tebboune expressed his regret that the Libyan crisis remains unresolved. He stressed his support for a Libyan-led solution, without foreign interference.
He pointed to "some behaviour that makes Algeria question whether there is a desire to reach stability in Libya or not? Algeria has been calling for elections for years. The government of Abdel-Hamid Dbaiba, and the Presidential Council headed by Mohamed Al-Mnifi were appointed to arrange the elections. We are still waiting for elections because it is the only legitimate solution," he noted.
Tebboune expressed his rejection of any solution to share power in Libya. "Experiences have proven that it isn't a durable solution." He explained that Algiers "did not interfere in Libyan affairs, and did not support or send mercenaries to Libya."
The President emphasised his support to resolve urgent economic and technical problems. As well as noting that Tripoli is now demanding the return of Algeria's state-owned Sonatrach Company to resume oil exploration operations. Its projects were frozen in 2014 due to security tensions.
Earlier this year, Sonatrach signed a deal with Libya's National Oil Corporation (NOC) to restart operations in the war-torn nation.
The deal aimed to restart Sonatrach's activities in Libya to fulfil its contractual obligations, and develop existing fields.
Last week, Sonatrach announced that it had made three oil and gas discoveries in the Algerian desert. Two of which are near the border with Libya.