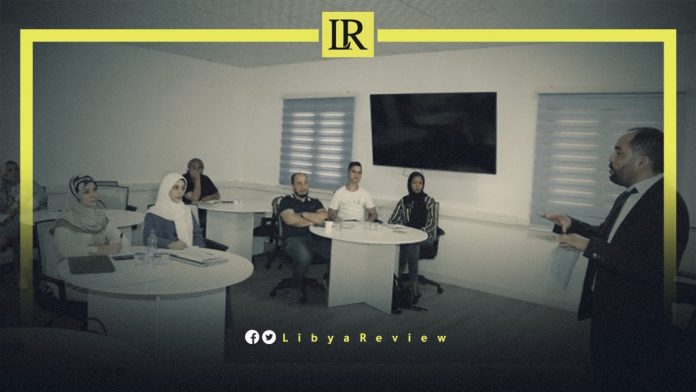 On Sunday morning, the activities of the training program "Monitoring Violence against Women in Elections in Libya" were launched. The program is organised by the High National Election Commission (HNEC), in cooperation with the United Nations Development Program (UNDP), at the training centre at the commission's headquarters.
The program was opened by a member of the HNEC's Council, Rabab Halab, with a speech, in which she explained that this program is the result of many programs, meetings and discussion panels, organised by the Women's Support Unit at the Commission, with specialists, as well as national and regional expertise in this field.
She added that methodologies and action plans were reviewed, and samples and models of violence and electronic crimes directed against women were monitored on social media. She clarified that the data collected through questionnaires monitored women's regression from participating in the electoral process.
Halab noted that it was concluded that "the greater the percentage of women's participation in elections, the greater the electoral violence." This gave an indication of the importance of a strong platform to monitor electronic violence and electoral irregularities, which contributes to developing a strategy to address and reduce it.
She added that this platform would provide recommendations alerting the need to draft laws that would deter anyone who infringes on women's right to participate in the electoral process.
Halab indicated that this program is part of the awareness programs implemented by the Women's Support Unit at the Commission. "It is one of the sensitive and very important programs, as it establishes a database to verify violence against women, and contributes to providing quality community awareness in line with the requirements of society."
For their part, the words of the Chargé d'Affairs, the Embassy of Canada via Zoom, and the delegates of the UNDP confirmed their happiness to be part of the unit's work.
They stressed the importance of this program as it paves the way for broad participation of Libyan women in the elections, by monitoring and eliminating practices that hinder their participation in the elections.
The program includes several topics, a general introduction to the process of monitoring social networking sites during elections and combating misleading and false news, and violence against women in elections on the Internet.
The official of the Women's Unit, Suzan Hama, stated that the program is one of the most important projects of the unit's plan for the year 2022. The HNEC is working to implement it in the context of enhancing its readiness for the upcoming elections.
She added that the program aims to train the staff of the Monitoring Department of the Commission in preparation for the launch of a platform specialised in monitoring violence against women in elections, which the HNEC is working to launch during the coming period.
Hama added, "the duration of the program is three days, during which the participants will receive an integrated program, under the supervision of a number of experts specialised in the field of monitoring and information verification."