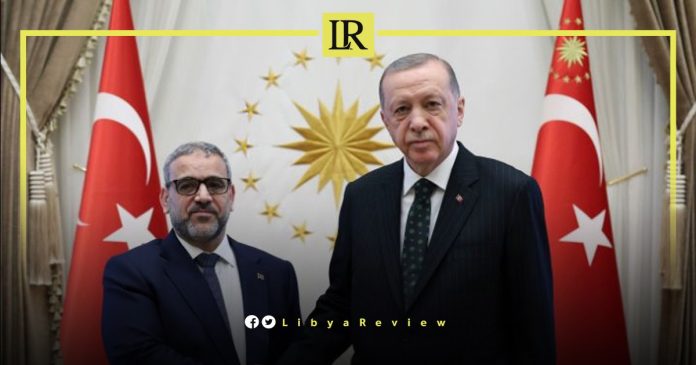 On Wednesday, Turkish President, Recep Tayyip Erdogan received the Chairman of Libya's High Council of State (HCS) Khaled Al-Mishri in Ankara.
The two sides discussed bilateral relations, issues of common interest, and the latest developments in Libya's political situation.
During the meeting, President Erdogan reiterated his full support for the unity and stability of Libya. As well as the necessity of holding elections on an agreed constitutional basis, and approved electoral laws.
Al-Mishri also met with Turkish Foreign Minister, Mevlut Cavusoglu on Tuesday. They discussed strengthening bilateral cooperation, and ways to resolve the political crisis in the country.
Cavusoglu reiterated his continued support for Libya to overcome its political crisis, and achieve permanent stability.
Notably, Turkey's Ambassador to Libya, Kenan Yilmaz said that the Consulate General in Benghazi will reopen if the conditions in the region improve.
This came in a statement he made to the Anadolu Agency, on the sidelines of his participation in the 13th Conference of Turkish Ambassadors held in Ankara.
Yilmaz noted that "there are important opportunities to develop relations between Turkey and Libya in all fields." He added that Turkey and Libya continue to develop bilateral relations.
"Our efforts continue to improve our relations with Libya in all aspects. Our main desire is to overcome this unstable period that Libya is going through, as soon as possible. We recommend removing political differences, achieving reconciliation, and holding elections," he said.
He pointed out the possibility of Ankara "developing relations in trade, economy, investment, culture, health, and security, in cooperation with a strong government that holds power in Libya."