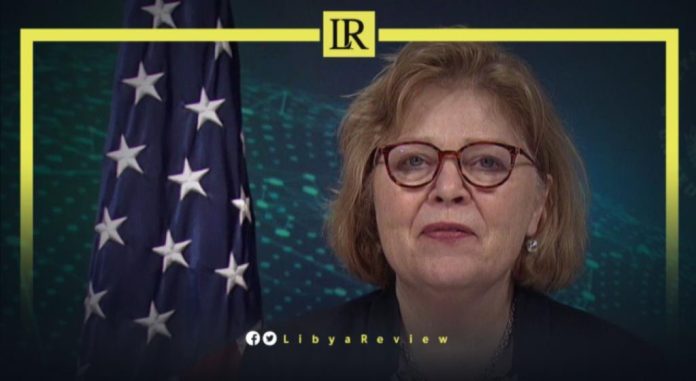 US Assistant Secretary of State for Near Eastern Affairs, Barbara Leaf reiterated the United States' concerns about the transfer of public funds to militias and armed groups.
She recently met with the Head of the Presidential Council, Mohamed Al-Mnifi and Central Bank of Libya (CBL) Governor, Al-Siddiq Al-Kabir in Tunisia.
This came in a briefing provided by the US diplomat on her recent tour of the Middle East, which included Tunisia, Israel, the West Bank, Jordan, and Iraq.
While in Tunisia, Leaf held discussions on Libya, stressing the urgent need for Libyan leaders to support a credible path to elections as soon as possible.
She affirmed the importance of "strengthening Libyan economic institutions for the transparent management of oil and gas revenues, for the benefit of all Libyans."
Notably, the US Department of State's annual Fiscal Report noted that the Government of National Unity (GNU) failed to publish an executive budget proposal, or any summary of an enacted budget within a reasonable period.
"Libya does not yet fully use internationally accepted accounting principles. The supreme audit institution did not meet international standards of independence," the report read.
"An end-of-year budget execution report was available online. Only limited information on debt obligations, including state-owned enterprise debt, was publicly available," it added.
The report noted that Libya's fiscal transparency would be improved by disclosing information on these debt obligations.
It urged for an executive budget proposal, and enacted budget to be published within a reasonable period. As well as the publishing of expenditures to support executive offices.
Last month, Bashagha claimed that "only three or four companies control the Libyan economy. All of these companies are owned by Dbaiba's family members.
"The Libyan economy is totally controlled by three companies owned by the family of Abdel-Hamid Dbaiba, and we receive reports from currency dealers that money is directly deposited in the bank accounts of these companies." He indicated that this is "behind the current economic recession, which could be catastrophic if the situation continues unchanged."