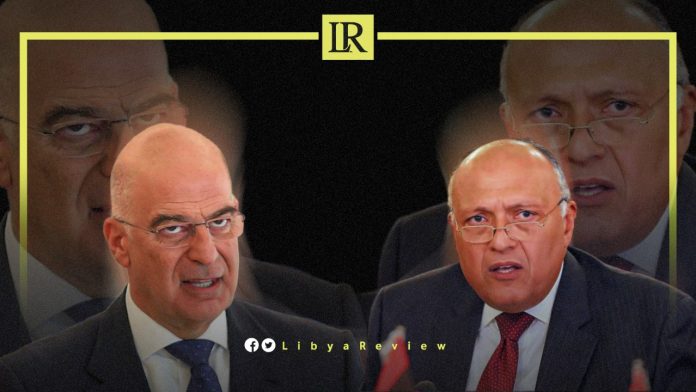 On Monday, Greek Foreign Minister, Nikos Dendias and his Egyptian counterpart, Sameh Shoukry discussed the legitimacy of the recently signed Turkish-Libyan memorandum of understanding.
The two sides confirmed that the "Government of National Unity's (GNU) mandate has ended, and it does not have the authority to conclude any international agreements," the Egyptian Foreign Ministry said in a statement.
According to a statement by Greek Foreign Ministry, "Greece is following developments in Libya very closely, especially Monday's signing of a memorandum of cooperation between the GNU and Turkey in the field of hydrocarbons."
The statement added that Greece "holds sovereign rights in the area, which it intends to defend by all legal means, in full respect to the International Law of the Sea."
It explained that Greece has demarcated its Exclusive Economic Zone (EEZ) with Egypt, an agreement signed in full respect to the International Law of the Sea. As set by the United Nations Convention on the Law of the Sea, Greece maintains an ipso facto et ad initio right to a continental shelf, which, in the absence of a bilateral agreement, is defined by the median line, it was pointed out.
Dendias and Shoukry stressed that "Turkish-Libyan memorandum of 2019 is illegal, invalid, and non-existent, therefore no entity has any right to invoke it."
The Greek Foreign Ministry stated: "Any action or reference in implementation of said 'memorandum' will be de facto illegal, and -depending on its gravity- will carry a reaction both at the bilateral level and at the level of the European Union and NATO."
In this context, it was noted that "Greece will continue to inform its partners and allies about Turkey's destabilising role."
According to GREEK CITY TIMES, the ministry expressed "satisfaction for the statements of the President and of the Energy and Natural Resources Committee of the Libyan Parliament regarding the invalidity and lack of legality of the memorandum signed today in Tripoli."
Dendias also met with US Ambassador, George Tsunis on Monday to "discuss the latest developments in Libya," the Greek MoFA tweeted.
For their part, the opposition SYRIZA-Progressive Alliance party said in a statement on Monday that the signing of the "new memoranda of cooperation between Turkey and Libya in the energy sector on the basis of the illegal memorandum of November 2019 constitutes yet another extremely unfavourable and dangerous development for the interests of Greece."