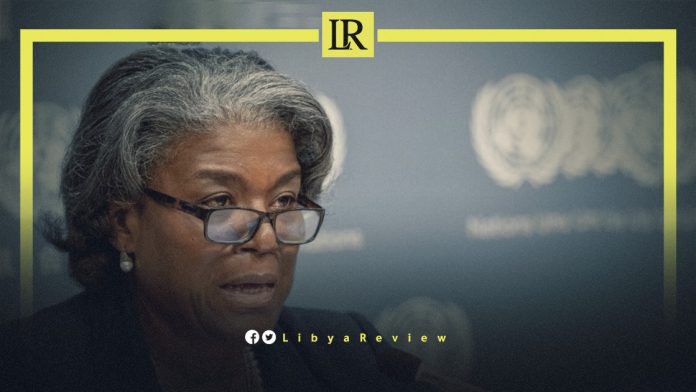 On Wednesday, the US Representative to the United Nations, Linda Thomas-Greenfield said that the US fully supports the work of the UN Envoy to Libya, Abdoulaye Bathily.
"A pleasure to meet with Abdoulaye Bathily as he takes up his mandate to advance the political process and stability in Libya. US State Dept – Near Eastern Affairs Assistant Secretary Leaf, Special Envoy Norland, and I reiterated full U.S. support for the United Nations Support Mission in Libya's (UNSMIL) important work," she tweeted.
"I appreciated the opportunity to join Representative of the United States of America to the United Nations, Linda Thomas-Greenfield and US State Dept – Near Eastern Affairs Assistant Secretary Leaf in offering full U.S. support for UN SRSG Bathily as he takes up his important duties," Norland noted.
On Tuesday, the Spokesman for the United States (US) Department of State, Ned Price said that the "interim Government of National Unity (GNU) of Libya, headed by Abdel-Hamid Dbaiba is compelled by the Libyan Political Dialogue Forum (LPDF) to not sign new agreements that would upset the country's foreign relations, or that would result in long-term obligations."
"We are aware of reports on the signing of a Memorandum of Understanding between the Turkish government and the provisional government of Libya, we have not yet seen the document," the US official said.
"We call on all parties to refrain from actions that risk increasing tension in the eastern Mediterranean".
The Tripoli-based government signed a series of preliminary economic agreements with Turkey on Monday. These included potential energy exploration in maritime areas, a move that angered the Libyan Parliament, and Turkey's regional rival Greece, who denounced them as "illegal."
The controversial deals, signal a renewed alignment by Dbaiba with Ankara, amid repeated international calls for elections to resolve the country's political divide.
The MoU's are said to pave the way for further bilateral cooperation in the hydrocarbon and oil sectors. A gas deal is also expected, according to Turkey's Foreign Minister, Mevlut Cavusoglu during a news conference that followed the signings.
Recently, Chargé d'Affairs of the US Embassy in Libya, Leslie Ordman met with Head of the Libyan Audit Bureau (LAB), Khaled Shakshak to discuss the 2021 financial report.