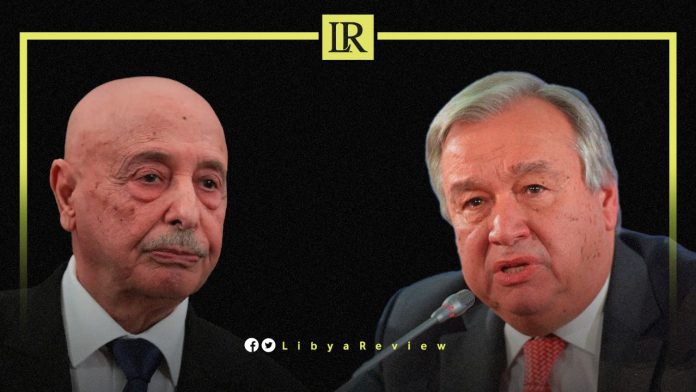 Libyan Parliament Speaker, Ageela Saleh informed UN Secretary-General, Antonio Guterres that "any memorandums of understanding concluded by the Government of National Unity (GNU) have no legal effect and do not bind the Libyan state."
Saleh stressed that "the GNU's mandate had constitutionally expired in accordance with the terms of the political agreement." He added that the GNU had "failed to carry out its duties and tasks specified in the roadmap of the Libyan Political Dialogue Forum (LPDF)."
"Committing this deliberate violation could destabilize the security and stability of the eastern Mediterranean region, and that of neighbouring countries of Egypt, Greece, and Cyprus," Saleh noted.
On Tuesday, the Foreign Affairs Committee of the Libyan Parliament denounced the GNU's signing of an energy agreement with Turkey, to carry out gas and oil exploration operations.
In a statement, the committee stressed that the GNU, headed by Abdel-Hamid Dbaiba "does not have the authority to sign any international agreements or memoranda of understanding."
It also confirmed that "the agreement is illegal and is considered a violation of democratic norms and against the will of the Parliament, which withdrew confidence from this government and chose another government."
Moreover, the committee rejected "Turkey's interference in internal Libyan affairs, its violation of the values of democracy, and bypassing the will of the elected Parliament, in addition to dealing with an illegitimate government."
The committee reiterated that signing international agreements and treaties requires its consent.
It also noted that it would address the United Nations to "not register any agreements concluded with the GNU."
On Monday, Turkish Foreign Minister, Mevlüt Çavuşoğlu announced the signing of a memorandum of understanding with Libya in the energy sector.
The EU Spokesman, Peter Stano said the recently signed hydrocarbons deal between Libya and Turkey could "potentially undermine regional stability".