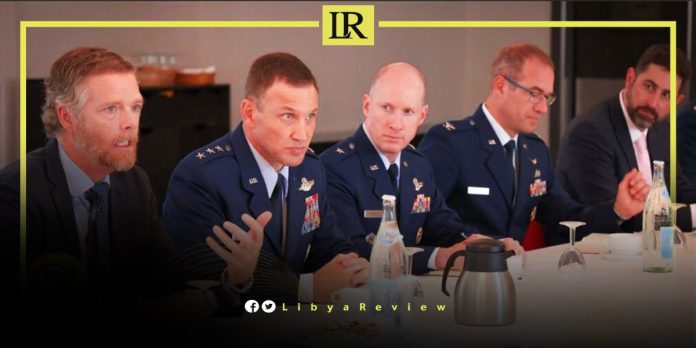 On Saturday, the Chargé d'Affairs of the United States (US) in Libya, Leslie Ordman, said that the US looks forward to partnering with a unified Libyan Army that can protect the homeland and be a source of stability and pride for the entire country.
"It is a challenging path but one that will profoundly help Libya once realised," the US Embassy said in a tweet.
The US diplomat hailed the sending of a Libyan joint military delegation to take part in the second edition of the International Aerospace and Defence Exhibition (IADE) in Tunisia.
Ordman stressed that the Libyan people deserve a unified military capable of defending their country's sovereignty just as they deserve a democratically elected government that represents a united Libya.
On Thursday, the Chief of Staff of Libya's National Army (LNA), Lieutenant-General Abdulrazek Al-Nathouri, participated in the event along with his Government of National Unity (GNU) counterpart, Major General Mohamed Al-Haddad, in Tunisia.
The four-day event was inaugurated by the Tunisian Defence Minister, Imed Memmich; the Minister of Transport, Rabie Majidi, and the Minister of Employment, Nasreddine Nsibi.
Military delegations led by Chiefs of African air forces and representatives of European, Argentinian, and Australian air forces attended the inauguration ceremony. At least 110 companies from 50 countries took part in the exhibition.
The first IADE was held in the southeastern Tunisian city of Djerba in March 2020 and was attended by more than 100 exhibitors from more than 40 countries.
This is the first meeting between Al-Nathouri and Al-Haddad since their talks in Tripoli in July. As part of the framework to unify the military institution.
In January, Lieutenant-General Khairi Al-Tamimi said that this was a continuation of a previous meeting within the framework of a program to unify the military institution and build confidence between the two parties.
Libya has two rival armies present in the East and the West. They were engaged in fierce conflict, before signing an United Nations (UN)-brokered ceasefire agreement in October 2020.