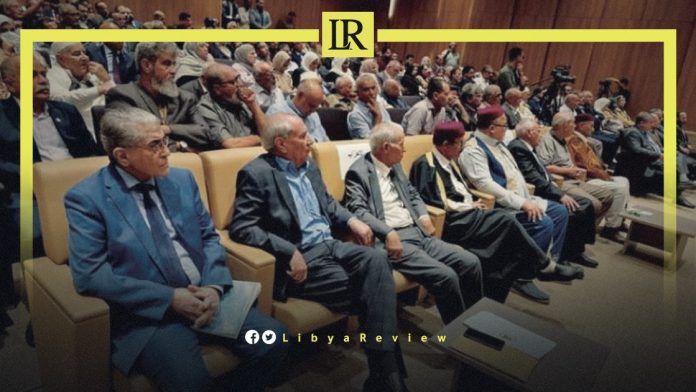 A political forum by proponents from eastern Libya has called for a federal government, "in order to save the country and preserve its unity."
The forum was held in Benghazi on Saturday, in the presence of a number of politicians and activists, who support the formation of a federal government. They demanded that this be declared on the basis of the 1951 constitution.
According to Al-Sharq Al-Awsat newspaper, many Libyans believe that the call for "disengagement" between the three regions of Libya is causing political uproar in the country. Libyan writer and novelist, Salem Al-Hendawi criticized these calls, describing them "as a termination of the historical social connection between the Libyans."
The political division in Libya, and the faltering of the constitutional process between the Libyan Parliament and the High Council of State (HCS), has prompted many MP's and academics to demand the adoption of the 1951 Constitution.
This would pave the way for a return to the federal system representing three regions Cyrenaica (east), Tripoli (west), and Fezzan (south).
Since the fall of Muammar Gaddafi's regime in 2011, calls for either a return to the federal system or a Presidential system have been increasing.
In early October, 30 MP's from the Cyrenaica region submitted a request to the Parliament Speaker to present the unamended 1951 constitution to the Parliament for deliberation, with the aim of returning to the federal system.
The MP's explained in their statement that the referendum on the draft constitution completed by the constitution-writing body in 2017 "had stumbled."
In turn, Libyan political analyst, Hussein Al-Masallati told Al-Sharq Al-Awsat that he supports any political movement that contributes to resolving the current crisis.
The forum said the "political and constitutional blockage that the country has been suffering from for many years are behind the calls for a federal government."
On the other hand, a Libyan citizen, Juma Al-Ferjani said he believes that "the process of dividing and ripping the Libyan state is being prepared in secret," considering it a call for "division."
Al-Ferjani added that the General Command of the Libyan National Army (LNA) "would not agree with this political farce. The LNA would support the unification of Libya, not its division."
"There are those who are working in secret against a united Libyan state. The LNA must distance itself from this strife," Al-Ferjani concluded.