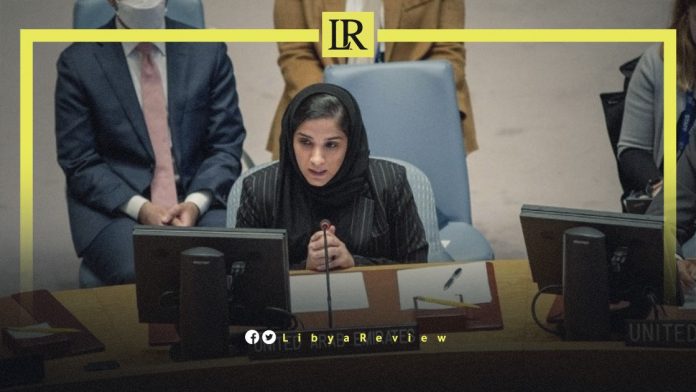 On Monday, the Deputy Permanent Representative of the United Arab Emirates to the UN, Ameirah AlHefeiti confirmed that Parliamentary and Presidential elections, "remain a legitimate demand for the Libyan people." She added that holding them would require, "dialogue between all Libyan parties."
AlHefeiti announced her welcome of the recent meeting between the Speaker of the Libyan Parliament, Ageela Saleh, and the Head of the High Council of State (HCS), Khaled Al-Mishri in Morocco.
In her speech before the Security Council during a session on Libya, AlHefeiti stressed that "to this end, the path of national reconciliation must be followed." She praised the progress of the Presidential Council's efforts in this regard.
The Emirati diplomat reiterated the need to "unify the security and political institutions, and start withdrawing foreign forces, fighters, and mercenaries from Libya, in a simultaneous, phased, gradual and balanced manner."
She also called for "giving due importance to the humanitarian and economic tracks. This requires decision-makers in Libya to focus their priorities on responding to providing the basic needs and services of the Libyan people, exploiting natural resources, spending revenues in a fair and transparent manner, and respecting the independence of Libyan economic and financial institutions."
AlHefeiti also stressed the need to "actively" involve Libyan women in the decision-making, negotiation, and dialogue process. She praised the efforts of the United Nations in empowering women.
Regarding the humanitarian situation, she condemned the recent killing of 15 migrants and asylum seekers in Sabratha. She stressed the urgent need to work to "dismantle cross-border organized crime networks, and that this includes all countries of origin and transit."
At the conclusion of her speech, AlHefeiti confirmed her support for the efforts of the United Nations Mission in Libya (UNSMIL) and its Head, Abdoulaye Bathily, and was "looking forward to extending the mission's mandate to a full year next week."