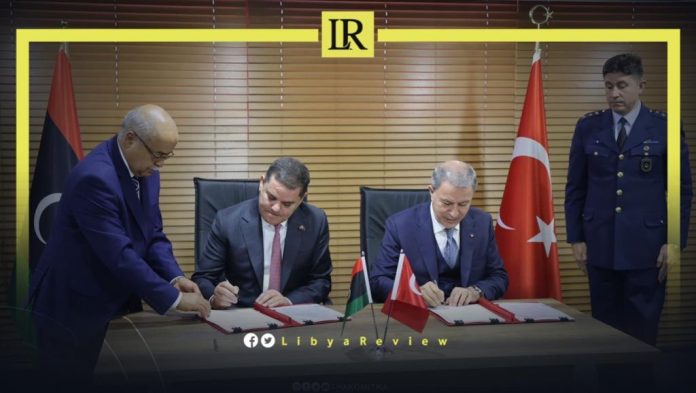 On Tuesday, Prime Minister of the Government of National Unity (GNU), Abdel-Hamid Dbaiba signed two military cooperation agreements with Turkish Minister of Defence, Hulusi Akar.
According to the government's Hakomitna platform, the first agreement provides for "raising the efficiency of military aviation capabilities in Libya, with the help of Turkish expertise."
The second agreement included "implementation protocols for the security agreement signed by the Presidential Council of the Government of National Accord (GNA) in 2019."
The two parties held talks at the Ministry of Defence headquarters in Istanbul. They discussed aspects of bilateral cooperation in different fields.
The discussions were attended by Libya's Chief of General Staff in the Western Region, Lieutenant-General Mohamed Al-Haddad, and his Turkish counterpart, along with a number of officers and officials in the two armies.
Early in October, the GNU signed two memoranda of understanding on oil and gas with Turkey. Libya's Foreign Minister, Najla Al-Mangoush said in a press conference: "The memorandum of understanding is in the interest of both countries, and contributes to solving the global crisis regarding energy and gas."
90 members of the Libyan Parliament expressed their "rejection and strong condemnation of the signing of vague memorandums of understanding between the outgoing GNU headed by Abdel-Hamid Dbaiba and Turkey."
The MP's referred to the political agreement, which "prohibits the government from signing any agreements or treaties during the transitional stage."
They said that "what the Dbaiba government had done did not impose any current or future obligations on the Libyan state, as it was done with a non-relevant party."
Greek Foreign Minister, Nikos Dendias and his Egyptian counterpart, Sameh Shoukry discussed the legitimacy of the recently signed Turkish-Libyan memorandum of understanding.
The two sides confirmed that the "GNU's mandate has ended, and it does not have the authority to conclude any international agreements," the Egyptian Foreign Ministry said in a statement.
The EU Spokesman, Peter Stano said the recently signed hydrocarbons deal between Libya and Turkey could "potentially undermine regional stability".
"The European Union takes note of the reports indicating that Turkey and the GNU have signed an agreement on hydrocarbons based on the 2019 Turkey-Libya Memorandum of Understanding, on the delimitation of maritime jurisdiction areas in the Mediterranean," the EU said in a statement on Monday.
It stressed that the hydrocarbons deal requires further clarifications, given that it's based on a memorandum that "goes against Law of the Sea and infringes on third states' rights." Stano affirmed that "actions that could undermine regional stability should be avoided."
The Libyan Prime Minister-designate, Fathi Bashagha affirmed his "complete rejection of signing any agreement or memorandum of understanding by the outgoing government of Abdel-Hamid Dbaiba."