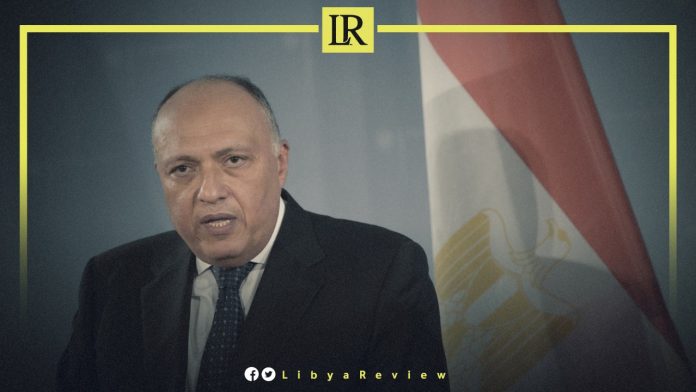 Egyptian Foreign Minister, Sameh Shoukry denounced the lack of decisive action regarding the withdrawal of foreign forces from Libya.
Shoukry said in statements to Al-Arabiya TV, that "the situation in Libya is complicated because some Libyan parties are clinging to power." He also called for "respecting the Libyan Parliament and its decision to form a new government, led by Fathi Bashagha."
He stressed that "there has been no change from the Turkish side to develop relations between Cairo and Ankara."
Notably, Shoukry said that Libya's "outgoing" Government of National Unity (GNU) has "lacked legitimacy since 24 December, and has no right to sign international agreements."
During a press conference with this Greek counterpart, Nikos Dendias, the Egyptian FM urged the United Nations to announce its position on the legitimacy of the outgoing Libyan government. "We confirm the necessity of holding elections in Libya, and supporting the efforts of the Libyan Parliament," he added.
For his part, Dendias referred to the memorandums of understanding between Turkey and the GNU, stressing that the MoU was illegal.
Dendias travelled to Cairo to hold talks on the recently signed deal.
Libya and Turkey signed a series of economic agreements that included potential energy exploration in maritime areas.
The agreements will allow for oil and gas exploration in Libyan waters and come three years after the two countries signed a maritime border deal, Turkish Foreign Minister Mevlüt Çavuşoğlu said after signing the MoU in Tripoli.
The Greek Foreign Ministry has said in a statement that it is following developments in Libya very closely, "especially Monday's signing of a 'memorandum of cooperation' between the Libyan GNU and Turkey in the field of hydrocarbons. "
The statement added that Greece "holds sovereign rights in the area, which it intends to defend by all legal means, in full respect to the International Law of the Sea."
Notably, the Egyptian delegation headed by Shoukry decided not to participate in the consultative Arab countries' foreign ministers meeting that was held on the sidelines of the UNGA.
According to the "Cairo 24" website, Shoukry refused to attend the meeting to express his country's objection after Libyan Foreign Minister, Najla Al-Mangoush assumed the Presidency of the meeting.
Shoukry left the Arab foreign minister's meeting held earlier this month at the headquarters of the Arab League in Cairo. This was during the opening session of the League's 158th Ministerial Council session, after Al-Mangoush assumed the Presidency of the meeting.
A video from the Arab League meeting showed the withdrawal of Shoukry and his advisors.
Al-Mangoush commented on the departure, telling reporters: "We respect the position of the Egyptian minister, but it is against the norms of the League of Arab States and Security Council resolutions, and we do not agree with him."