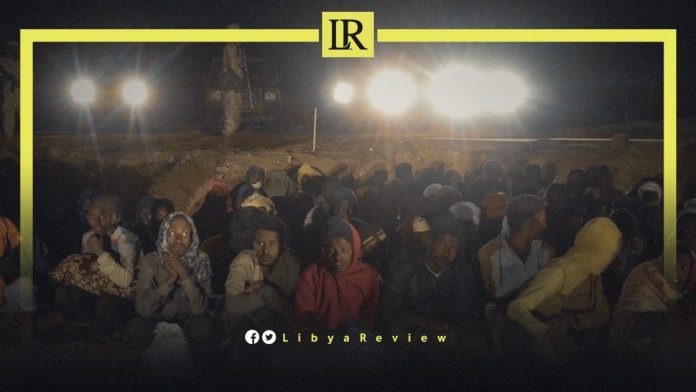 The 444th Brigade, affiliated with the Tripoli-based Government of National Unity (GNU) arrested seven human traffickers and 150 migrants, and seized six vehicles in the Libyan desert, according to the Italian news agency, Nova.
The arrested migrants were of different nationalities, "were illegally crossing the Libyan border in an attempt to reach the coast, and sail to the other side of the Mediterranean."
Images posted by the armed group show an off-road car in flames, the alleged traffickers lying on the ground with their hands behind their heads, and dozens of migrants, including several women, being carried away by men in military uniforms with their faces covered.
According to the Interior Ministry – 79,647 migrants arrived in Italy, in over 2,044 landing events during 2022. This is an increase of 50.78% compared to the same period in 2021.
This is largely attributed to the increase in arrivals from Libya, Tunisia, and Turkey, the main countries of departure for migrants. The ongoing internal instability in Libya is a determining factor in the growth of the migratory drive (+75.83%).
The flow from Tunisia has also increased compared to last year, which recorded a +25.96% rise. The flow from Turkey is consistent, with an increase of 43.02% compared to the same period last year.
There is a slight decline in migration flows from Algeria, directed almost exclusively to Sardinia. A decrease of 7.12% compared to the same period in 2021.
In his first briefing to the UN Security Council, the new UN Special Envoy to Libya, Abdoulaye Bathily denounced the human rights situation in Libya.
"Unfortunately, the human rights situation in Libya is still unacceptable", explained the Senegalese diplomat. He referred to the tragedy of 7 October in Sabratha, where dozens of migrants were found killed, victims of a conflict between rival human traffickers.
Bathily urged the Libyan authorities to conduct "thorough investigations" into the tragedy, and to "immediately release" the migrants detained without trial. Many of them are Africans, and from countries where armed conflicts and persecutions on ethnic or religious grounds are underway.