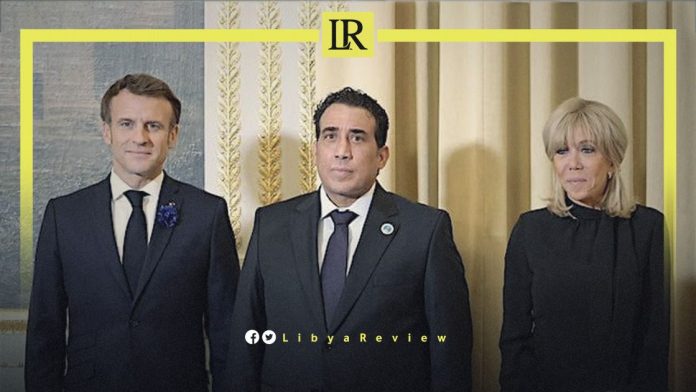 On Saturday, France's President Emmanuel Macron held talks with the Head of the Libyan Presidential Council, Mohamed Al-Mnifi, at the Élysée Palace in Paris.
The meeting comes on the sidelines of their participation in the fifth edition of the Paris Peace Forum, which started on Friday and will last for two days.
During the talks, Al-Mnifi and Macron discussed the latest political developments in Libya and ways to end the current crisis. They reviewed local and international efforts to resolve the political crisis in the country.
The French President stressed the importance of holding presidential and parliamentary elections soon and in accordance with the aspirations of Libyan citizens.
In turn, Al-Mnifi hailed the positive role being played by France in maintaining the stability of Libya and holding elections on a basis of a consensual constitutional framework.
Notably, the Paris Peace Forum is set to focus on how to overcome the socioeconomic impact of multiple crises, develop international cooperation on major issues, support multilateralism, and improve global cooperation mechanisms.
During the two-day forum, participants including Heads of international organizations, NGOs, multinational companies, and financial institutions will exchange views on global governance.
Topics will include the impact of multiple crises on people, rethinking globalization, promoting climate and environmental solutions, and building a more ethical and safe digital world.
In late October, Al-Mnifi met with the French President's Special Envoy to Libya, Paul Soler, who said that his country will play a positive role in the stability of Libya through an agreement and a political solution.
The meeting also focused on the priority of Libya's sovereignty, support for the dialogue between Parliament and the High State Council (HCS), support for the 5+5 Joint Military Committee (JMC), and the economic dialogue between Libyans.
Notably, France's Foreign Ministry has recently reiterated that the recent Turkish-Libyan energy exploration agreement "is not in accordance with international law of the sea."
"Our position on the Memorandum of Understanding (MoU) signed between Turkey and the Libyan Government of National Accord (GNA) in 2019, remains unchanged. This infringes the sovereign rights of Member States of the European Union, does not comply with the international law of the sea, and cannot have legal consequences for third states," France's Ministry Spokesperson told during the daily briefing.
Earlier this month, Libya and Turkey signed several economic agreements that included potential energy exploration in maritime areas, Mevlut Cavusoğlu, Turkey's Foreign Minister said.
The agreements will allow for oil and gas exploration in Libyan waters. This comes three years after the two countries signed a maritime border deal.

France Committed to a Stable, Secure & Independent Libya
Libya's Al-Mnifi Participates in COP27 Summit
French Envoy Discusses Elections with Bashagha