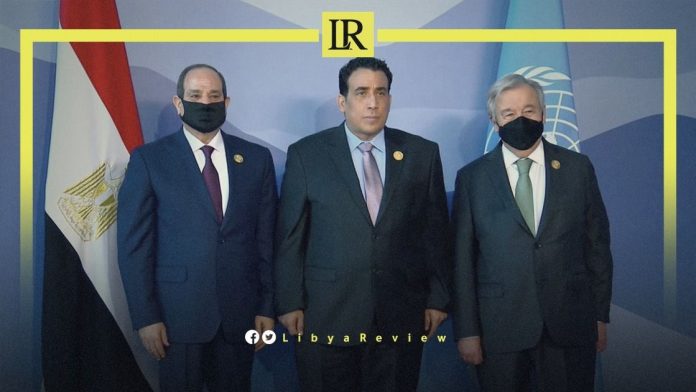 The Head of Libya's Presidential Council, Mohamed Al-Mnifi arrived at the World Climate Summit (COP27) in the Egyptian city of Sharm El-Sheikh. COP27 is being attended by 120 world leaders, heads of government, and a group of international figures and experts.
Egypt's President, Abdel-Fatah El-Sisi and the Secretary-General of the United Nations, Antonio Guterres received Al-Mnifi before the Presidential session of the summit.
El-Sisi inaugurated the activities of the conference, by holding three high-level round tables.
On Thursday, the US Secretary of State, Antony Blinken held a telephone conversation with his Egyptian counterpart, Sameh Shoukry.
During the call, Blinken expressed his "appreciation for Egypt's great efforts in supporting the constitutional track through its co-presidency of the economic working group, emanating from the Berlin process in partnership with the United States and the European Union."
He also hoped that Egypt would "continue to play this important role until the full settlement of the Libyan crisis."
In turn, Shoukry stressed the necessity of holding Parliamentary and Presidential elections in Libya as soon as possible.
During the call, he briefed Blinken on Egypt's efforts to converge the viewpoints of the Libyan parties. As well as the ongoing consultations about the constitutional framework needed for holding the elections.
Libya has been mired in conflict since Muammar Gaddafi was deposed and killed in a NATO-backed uprising in 2011. Plagued by divisions between competing institutions in the east and west, Libya remains split between rival forces, with two opposing executives in place since February.