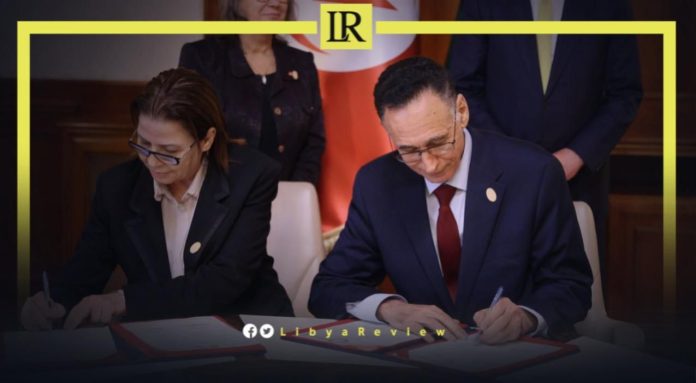 On Thursday, Libya and Tunisia signed a memorandum of understanding (MoU) on trade cooperation between the two countries.
The MoU was signed by the Libyan Economy Minister, Mohamed Al-Hwaij and the Tunisian Minister of Trade and Export Development, Fadhila Rabhi.
The agreement also includes the possibility of "establishing a joint border economic zone, lifting all restrictions on the movement of goods between the two countries, facilitating the financial and administrative procedures of Libyan businessmen in Tunisia, and forming a joint working group for food and drug security between the two countries," added the statement.
The MoU also "invites Libyan and Tunisian businessmen to take part and invest in infrastructure projects in both countries, facilitating the flow of goods of foreign origin imported to Libya through the ports of Tunisia, and so on," the statement said.
The agreement was signed during a visit by a Tunisian delegation including the Minister's of Industry, Energy, Transport and Trade, and the Director of the Tunisian Company for Refining Industries.
During the visit, they met with the Libyan Minister of Foreign Affairs, Najla Al-Mangoush, who discussed "strengthening the strategic partnership that brings the two countries together in all fields to serve the interests of the two peoples."
The delegation also met Prime Minister Abdel-Hamid Dbaiba, who stressed the need to "intensify security cooperation between Libya and Tunisia, increase trade, and ease restrictions."
On 15 October, a number of merchants in the Tunisian city of Ben Gardane closed the Ras Ajdir border crossing with Libya. They were protesting against what they described as "restrictions on the movement of trade and the exchange of goods between the two countries."
One of the Tunisian merchants, in a statement to "Radio Jfara FM," criticized what the "continuing restrictions on practising their commercial activities."
Radio Jawhara FM quoted Tunisian merchants at the crossing as saying that "their protest came as a result of the restrictions that are being exercised on the inter-trade activity that they use, which is affecting their livelihoods."
Videos circulated on social media pages showed plumes of smoke from burning tires, with protesters gathered, and cars queuing immobile.
On 14 June, officials in the Ministry of Transportation and Interior from both countries, held a meeting at the border crossing. They discussed the problems impeding the functioning of the port, and possible solutions.