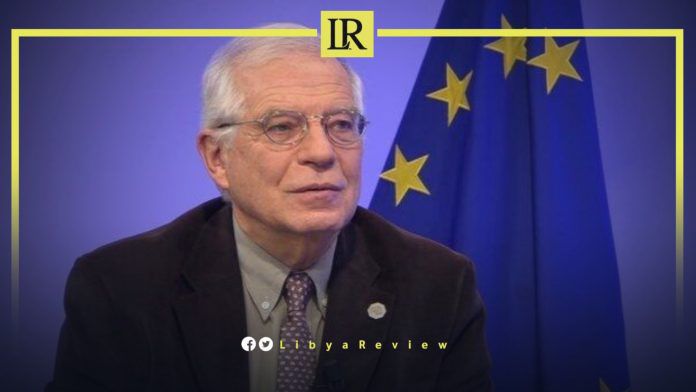 On Wednesday, the European Union's (EU) High Representative for Foreign Affairs, Josep Borrell said that "there is no room for optimism that a possible agreement on elections in Libya would be reached soon."
Addressing an EU Parliament session, Borrell said that the Bloc and its international partners "can make a difference by proactively supporting mediation efforts. In addition to urging all Libyan parties to enhance dialogue and reach consensus over the constitutional basis for elections."
The EU official stressed the need to withdraw all mercenaries and foreign forces from Libya. "We all also must support the work of the UN Envoy and Libyan stakeholders to outline a new joint roadmap towards elections. There is broad consensus on the dire need to reach a Libyan-led inclusive solution to the current political stalemate" Borrell noted.
The EU official hoped that the UN Envoy to Libya Abdoulaye Bathily would be able to "create a new positive dynamic for all Libyan actors to work together," stressing that he should "also focus on developing a strategy to resume a political framework for negotiations. This requires building a coherent umbrella for the political process in Libya, with the support of the European Union."
Borrell indicated that the European Union has previously proposed sending an Election Observation Mission (EOM) to Libya. This is to oversee the Parliamentary and Presidential elections. He reiterated that this offer was still available.
He stressed that the UN "has to be working on the ground, with stronger coordination with the European Union, to put an end to the Libyan crisis."
Libya has been in chaos since a NATO-backed uprising toppled longtime leader Moammar Gadaffi in 2011. The county has for years been split between rival administrations, each backed by rogue militias and foreign governments.
The current stalemate grew out of the failure to hold elections in December, and the refusal of Prime Minister Abdel-Hamid Dbaiba, who led the transitional government, to step down. In response, the country's eastern-based Parliament appointed a rival Prime Minister, Fathi Bashagha, who has for months sought to install his government in Tripoli.