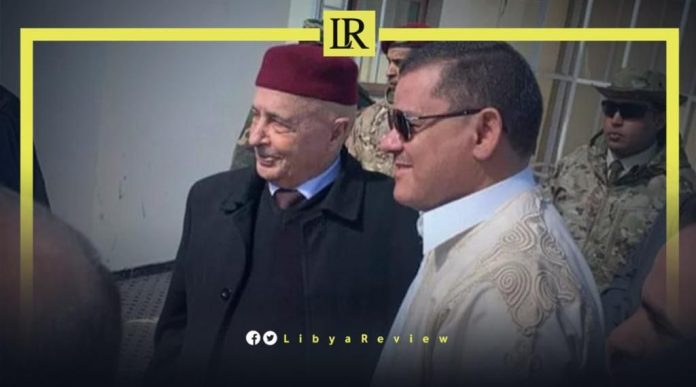 The Speaker of the Libyan Parliament, Ageela Saleh said the outgoing Government of National Unity (GNU) led by Abdel-Hamid Dbaiba had "failed to unify institutions, provide citizens' needs, hold elections, and reach national reconciliation."
He said in a speech that the GNU "is sticking to power, despite the expiration of its legal term, and the Parliament's withdrawal of confidence from it."
He pointed out that the Parliament-designated government, will perform its duties, "Either by armed force, which I reject or in agreement and consultations with armed groups in the western region," Saleh explained.
He stressed that the Parliament "never obstructed the elections, but rather issued laws electing the legislative authority and electing the president."
"We agreed to meet a joint committee of 12 MP's and 12 members of the High Council of State (HCS) to resolve some controversial articles," he said.
Notably, Saleh and the HCS Head, Khaled Al-Mishri agreed to unify the executive authorities of Libya by 2023. They held a meeting in Morocco to discuss the political blockage, the constitution, and the distribution of sovereign positions.
During a joint press conference at the headquarters of the Moroccan Ministry of Foreign Affairs, Al-Mishri said: "2023 will not come unless the executive authority and sovereign positions are united."
"I agreed with Saleh that the division of institutions led to poor conditions for citizens, and a deepening of the crisis. We agreed on 2 out of 7 sovereign positions," he added, without mentioning further details on the agreed positions.
The duo also affirmed the "necessary procedures for the Parliamentary and Presidential elections as soon as possible."
However, the HCS voted unanimously to prevent the candidacy of dual nationals and military personnel from the presidential elections. The step could maintain the ongoing dispute between the HCS and Parliament over the constitutional base and make it difficult to set a date for the elections.
On 10 February 2022, the Libyan Parliament announced the unanimous appointment of Fathi Bashagha as the new Prime Minister. But outgoing PM Abdul-Hamid Dbaiba warned that the appointment of a new interim government could lead to war and chaos in the country. He renewed his pledge to only hand power over to an elected government.