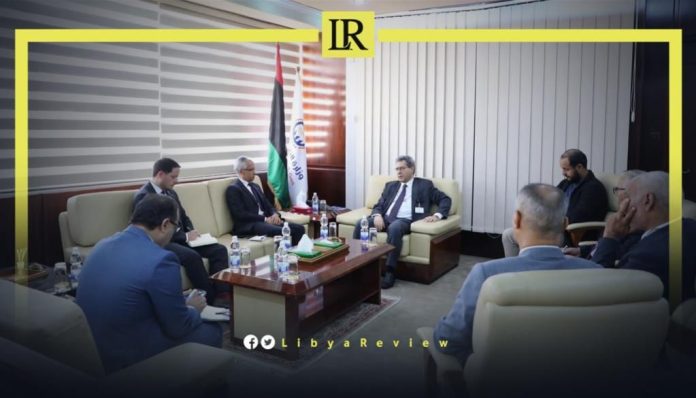 The Libyan Minister of Oil and Gas, Mohamed Aoun met with the French Ambassador to Libya, Mustafa Maharaj and his accompanying delegation in Tripoli.
Aoun gave a "brief overview of the history of the oil and gas sector, Libyan oil laws, and development, which clarifies the role and tasks of the ministry and its relationship with the National Oil Corporation (NOC) and the institutions of other countries."
Aoun touched on the development of the oil and gas sector, and the ministry's plans. He stressed the importance of experienced international companies contributing to the development and exploration of both on and offshore fields, which have yet to be explored.
They discussed benefiting from the experience of the French Institute of Petroleum to contribute to the development of Libyan cadres, and the exchange of experience and expertise in the oil and gas sector.
The French Ambassador presented his vision of the prospects for cooperation and contribution to the development of the Libyan oil sector. He pointed to the history of French companies in the Libyan oil sector, exceeding half a century.
Notably, the Libyan Minister of Economy and Trade, Mohamed Al-Hwaij also held a meeting with the French Ambassador. They discussed the economic and trade cooperation between the two countries.
The two sides discussed the difficulties facing French companies in resuming their work in Libya. In addition to setting up a mechanism to review and activate the agreements concluded between the two countries.
Al-Hwaij also urged the return of Air France flights in Libya. He encouraged businessmen to invest in the two countries, and activate the Libyan-French Businessmen Council. The two also discussed cooperation in the fields of infrastructure and communications, oil and gas, and medical services.