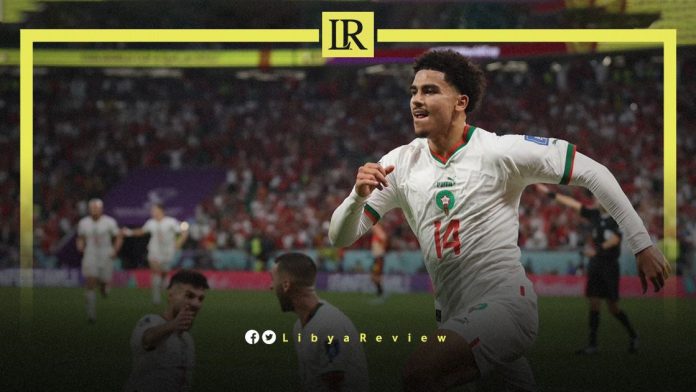 Two goals from Zakaria Aboukhlal and Abdelhamid Sabiri helped Morocco win against Belgium in the Qatar 2022 World Cup, Group F on Sunday.
Aboukhlal, a Moroccan player of Libyan origin, made a close-range finish in stoppage time with an assist by Hakim Ziyech, as the game ended with a 2-0 result in favour of Morocco.
He also became the first footballer of Libyan origin to score a goal in the World Cup.
Meanwhile, Sabiri scored the opener with a superb precision-guided free-kick, from outside the penalty area in the 73rd minute.
Following two group matches, Morocco increased their points to four, while Belgium collected three points after two matches.
It was Morocco's first World Cup win in 24 years. Their last World Cup win was against Scotland 3-0 in 1998, held in France.
Aboukhlal was born in the Netherlands to a Libyan father, and a Moroccan mother. He played for the youth international in the Netherlands. He decided not to represent the Netherlands, but the Moroccan national team in the World Cup.
Aboukhlal was called up to represent the Libyan National Team in November 2020. He debuted for Morocco in a 4–1 over the Central African Republic in the 2021 Africa Cup of Nations, and scored the fourth goal in his debut.
Due to political circumstances, Libya has typically been less successful in international competition compared to other North African teams like Algeria, Morocco, Egypt, and Tunisia. It has never qualified for the FIFA World Cup, and its participation in AFCON is sporadic, having only qualified for three AFCON editions.
Since the 2010's, Libya's global ranking has improved due to the increasing number of Libyan players in foreign leagues. In the 2012 Africa Cup of Nations, the team recorded their first-ever win in the tournament outside Libya.
Its FIFA world ranking rose to a high of 36 in September 2012; Libya then won a gold medal in the 2014 African Nations Championship.