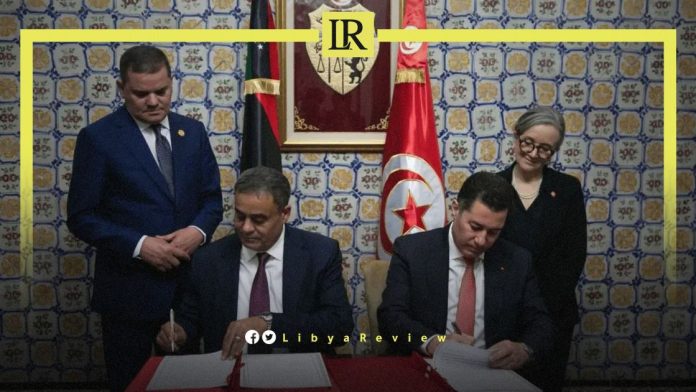 On Thursday, Libya's Minister of Transportation, Mohamed Al-Shahoubi and his Tunisian counterpart, Rabih Al-Majidi signed an agreement to increase flights between the two countries.

The agreement also includes setting up a sea transport route, and "developing a joint practical vision for the establishment of a port terminal for food security. In order to process and store foodstuffs for the benefit of the two countries, as well as neighbouring states."

The ministers expressed their satisfaction with the progress, and discussed ways to strengthen cooperation. They also hailed the positive results of the recent bilateral meetings, according to the statement of the Tunisian Ministry of Transportation.

Thtravellerso discussed ways to improve transit conditions for travellers and goods using the land border crossings. As well as expressing their keenness to cooperate to enhance investment opportunities.

The officials agreed to exchange expertise in the fields o training in maritime transport, ports, civil aviation, and land and rail transport.

On Wednesday, Libyan Prime Minister Abdel-Hamid Dbaiba met with Tunisian President, Kais Saied at the Carthage Palace. In a statement, the Libyan government said that the meeting focused on discussing a number of political, economic, and security files.

During the talks, they stressed the depth of the historical relationship between the two countries, and the need to "accelerate the pace of cooperation in order to facilitate procedures between the two countries."

The meeting was also attended Governor of the Central Bank of Libya, Al-Siddiq Al-Kabir, the Tunisian Prime Minister, Naglaa Boudin, the Minister of Foreign Affairs, Othman Al-Jarandi, and a number of ministers from the two countries.

The two sides agreed on the need to "fully open the door to further cooperation, and to address any problems that stand as an impediment to the historical partnership between Libya and Tunisia."

Earlier today, Dbaiba and his accompanying ministerial delegation held a meeting with their Tunisian counterparts.

The meeting saw discussions on strengthening economic relations, the recent agreements signed by the Tunisian delegation to Tripoli, and setting up the necessary implementation mechanisms for the interests of the two countries. In addition to facilitating the work of Libyan businessmen in Tunisia.