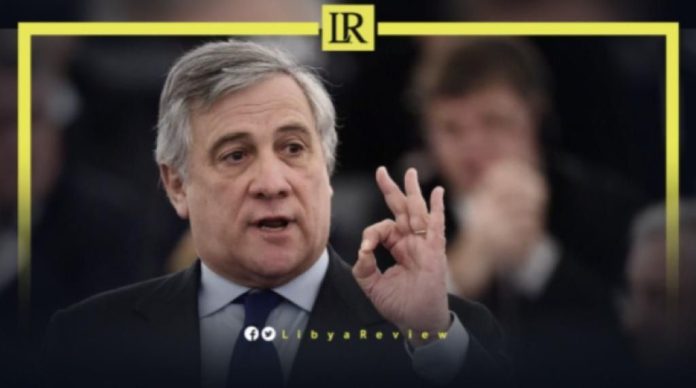 Italian Foreign Minister, Antonio Tajani expressed his concern about the situation in Libya. At the opening of the fifteenth Conference of Italian Ambassadors in Rome, Tajani said that "there is a great concern and we are working intensively on the diplomatic level on the Libyan issue."

"We are working with all countries in North Africa and sub-Saharan Africa because we consider them a priority to solve the migration issue, and Italy has close relations with the Mediterranean, not only geographically but also historically," he said.

Earlier this month, Italian Prime Minister, Giorgia Meloni expressed her hope for Parliamentary and Presidential elections to be held in Libya, as soon as possible.

"We are determined to develop relations with Libya in all fields," Meloni said in a letter addressed to her Libyan counterpart, Abdel-Hamid Dbaiba.

"Libya's stability is an absolute priority of Italy's strategy, as it is an essential element to ensure the security of the entire region. We are ready to do our part to achieve this stability in support of the United Nations while respecting Libyan sovereignty," she said.

During her speech at the conclusion of the eighth edition of the Rome Med – Mediterranean Dialogues conference, Meloni said that "the full and lasting stabilisation of Libya is a national security priority. From here we address the invitation to Libyan political actors to commit themselves to equip the country with solid and democratically legitimised institutions."

Meloni added that Italy is "strongly committed with this government to strengthening its role in the Mediterranean. In fact, only by creating a space of stability and shared prosperity will we be able to face the epochal challenges we face."

The Italian Prime Minister said that, "it is necessary to make use of an extended meaning of security, which also includes actions to safeguard the human, cultural, environmental, energy and food dimensions."

Libya has been in chaos since a NATO-backed uprising toppled longtime leader Moammar Gadaffi in 2011. The county has for years been split between rival administrations, each backed by rogue militias and foreign governments.

The current stalemate grew out of the failure to hold elections in December, and the refusal of Prime Minister Dbaiba, who is leading the transitional government, to step down. In response, the country's eastern-based Parliament appointed a rival Prime Minister, Fathi Bashagha, who has for months sought to install his government in Tripoli.