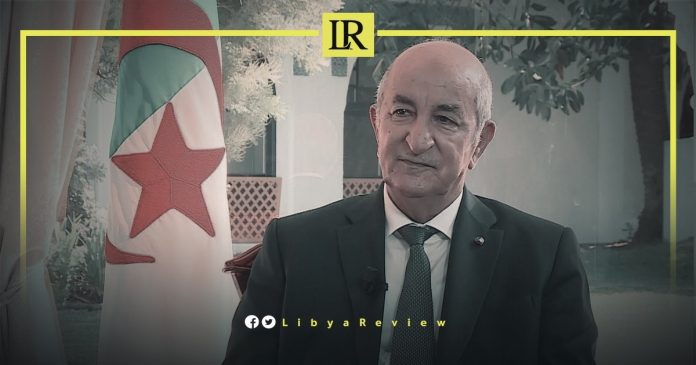 The Algerian President, Abdelmadjid Tebboune, said that the deterioration of the situation in Libya is a main cause for the instability in the African Sahel region.

In an interview with the French newspaper Le Figaro, on Friday, Tebboune said the deterioration of the situation in neighboring Libya "has helped the transfer of heavy weapons into the African Sahel region."

Last week, Tebboune stressed the need for "a high national spirit, in order to resolve the Libyan conflict and to set aside differences and personal interests."

In televised statements, Tebboune said, "without a very high patriotic spirit, it is difficult to resolve the Libyan conflict." He noted that Algeria went through a similar crisis in the 1990's when it suffered from terrorism, but it "witnessed a prevailing national interest to cross the impasse."

In his statements about the strength of the relationship between Libya and Algeria, Tebboune added, "our destiny is shared with our brothers in Libya." During a joint press conference with the Head of the Libyan Presidential Council, Mohamed Al-Mnifi, he expressed optimism that the Libyan crisis would soon be resolved.

Al-Mnifi also expressed the hope that 2023 will "be the year of the end of the tragedy for the Libyans, and that the elections will be held without external interference."

Last month, Tebboune and his Egyptian counterpart Abdel-Fatah El-Sisi affirmed the need to push for presidential and parliamentary elections in Libya, as soon as possible. The two leaders met on the sidelines of the Arab summit in Algeria. They stressed the importance of preserving Libyan institutions, achieving security and stability, and preserving the unity as wel as the sovereignty of Libya.

El-Sisi and Tebboune also agreed on the need to strengthen the role of security forces in combating terrorism, and maximising international efforts to expel all foreign forces and mercenaries from Libya. "The two Presidents agreed on the importance of strengthening cooperation and coordination frameworks between the two brotherly countries regarding the Libyan crisis," a statement said.