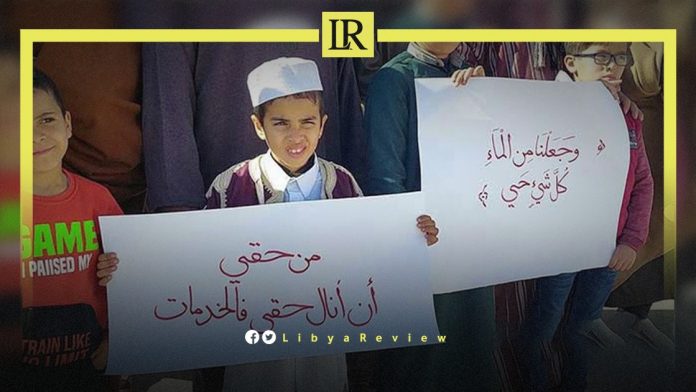 Members of the Manasla tribe in the city of Bani Walid, southeast of Libya's capital, Tripoli, held a protest, calling on the Government of National Unity (GNU) to "improve living conditions and provide them with basic services."

The protesters demanded that wells be dug in their remote area, due to the lack of potable water. They also called on the government, led by Abdel-Hamid Dbaiba, to complete the paving of roads. The protesters denounced the GNU's "marginalisation" of their locality, which has a population of over 7,000 people.

They also called on Libya's government to convert the health center into a hospital, complete the construction of schools in their area, and establish a passport office branch "to alleviate the suffering of citizens."

As the new year begins, the Libyan people continue to dream of a better future, despite the political divisions and the presence of two opposing governments in the east and west.

Libyans are still clinging to a glimmer of hope that keeps them alive, despite the collapse of state institutions for over a decade, the militias' control of the western region, and the unfair distribution of revenues.

Services and utilities have deteriorated, Libya's healthcare system has all but collapsed, and power outages have become the norm. However, successive governments are still promising to resolve these crises.

The international community has not lifted a finger regarding the need for the Libyan Parliament and the High Council of State (HCS) to reach an agreement on a constitutional basis for elections. It also turns a blind eye to the presence of mercenaries and Turkish forces in western Libya.

In the New Year, Libyans hope that the electricity cuts will be resolved, salaries will be paid to government employees, militias will be dissolved, and government and military institutions will be unified as soon as possible. They also aspire to hold Presidential and Parliamentary elections, provide job opportunities for youths, as well as have local hospitals be able to provide basic treatment.

Libyans were bitterly disappointed at the failure to hold the Presidential and Parliamentary elections, which were scheduled for 24 December 2021.