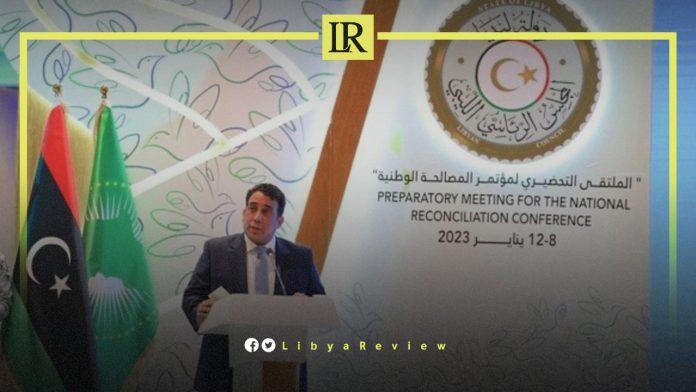 On Sunday, the Head of Libya's Presidential Council (PC) Mohamed Al-Mnifi kicked off the preparatory meeting for the National Reconciliation Conference in Libya.

The event was attended by Representatives of the African Union, a number of foreign ambassadors, members of the Libyan Parliament, the High Council of State (HCS), tribal Sheikhs, and notables from various regions of Libya.

The opening ceremony witnessed speeches by the Chairman of the African Union, Senegalese President Macky Sall, the Head of the African Union (AU) High-Level Committee on Libya, Denis Sassou N'Guesso, the Chairman of the AU Commission, Moussa Faki, and the Secretary-General of the Arab League, Ahmed Aboul-Gheit.

President Sall affirmed the African Union's "support for the Presidential Council's initiative to achieve reconciliation in Libya, and support for any comprehensive solution to the prolonged crisis."

In turn, Al-Mnifi called for pressure to be placed "on all political bodies in Libya in order to achieve comprehensive national reconciliation between all parties." He also stressed the need to "approve the constitutional basis, in order to achieve the aspirations of the Libyan people in holding elections. Ignoring reconciliation and power-sharing has further complicated the Libyan scene. The solution to the Libyan crisis lies in restoring the spirit of the homeland, and the principle of reparation."

Al-Mnifi also reaffirmed that the PC "is still equidistant from all parties, and was never a party to the struggle for power in Libya."

Talks about setting a new date for elections have come again to the fore, especially after Prime Minister Abdel-Hamid Dbaiba said his government is ready to hold general elections in 2023.

"The Government and the Elections Commission are fully prepared to hold the national elections in Libya," Dbaiba said during a cabinet meeting.

The PM also stressed that his government's priorities include achieving development, and avoiding armed conflict and war.

Libya failed to hold general elections in December 2021, due to disagreements over election laws among rival parties. The country is currently divided between a government appointed by the eastern-based Parliament, and the Tripoli-based government led by Dbaiba.

The Parliament has repeatedly called on Dbaiba to step down, after failing to hold the elections, saying his mandate had expired.

Abdoulaye Bathily, the special representative of the UN Secretary-General for Libya expressed his hope that elections would be held in 2023.

"I hope 2023 will be a year to make up for lost opportunities, and find a lasting solution that paves the way for holding elections and building sustainable peace and prosperity in Libya," Bathily said.

Since the fall of Muammar Gaddafi's regime in 2011, the country has been struggling to make a democratic transition, amid escalating violence and political division.