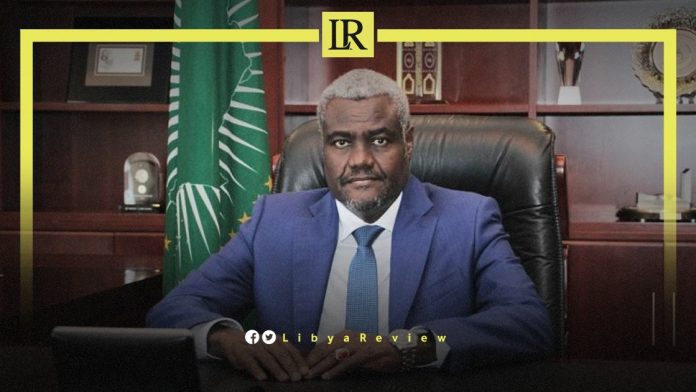 On Sunday, the Chairman of the African Union (AU) Commission, Moussa Faki affirmed that the "national reconciliation file constitutes the main step toward elections in Libya."

During the preparatory meeting for the National Reconciliation Conference in Libya, Faki said, "We will always be with Libya, which has a pioneering role in establishing the African Union. The AU will be grief-stricken if the presence of foreign forces continues on Libyan territory."

He added that "the way to solve the crisis is through national reconciliation, not sharing positions and power."

The Libyan Presidential Council's (PC) Chairman, Mohamed Al-Mnifi called for pressure to be placed "on all political bodies in Libya in order to achieve comprehensive national reconciliation between all parties." He also stressed the need to "approve the constitutional basis, in order to achieve the aspirations of the Libyan people in holding elections. Ignoring reconciliation and power-sharing has further complicated the Libyan scene. The solution to the Libyan crisis lies in restoring the spirit of the homeland, and the principle of reparation."

Al-Mnifi also reaffirmed that the PC "is still equidistant from all parties, and was never a party to the struggle for power in Libya."

Talks about setting a new date for elections have come again to the fore, especially after Prime Minister Abdel-Hamid Dbaiba said his government is ready to hold general elections in 2023.

"The Government and the Elections Commission are fully prepared to hold the national elections in Libya," Dbaiba said during a cabinet meeting.

The PM also stressed that his government's priorities include achieving development, and avoiding armed conflict and war.


Libya has been in chaos since a NATO-backed uprising toppled longtime leader Muammer Gaddafi in 2011. The county has for years been split between rival administrations, each backed by rogue militias and foreign governments.

The current stalemate grew out of the failure to hold elections in December, and the refusal of Prime Minister Abdel-Hamid Dbaiba, who is leading the transitional government, to step down. In response, the country's eastern-based Parliament appointed a rival Prime Minister, Fathi Bashagha, who has for months sought to install his government in Tripoli.