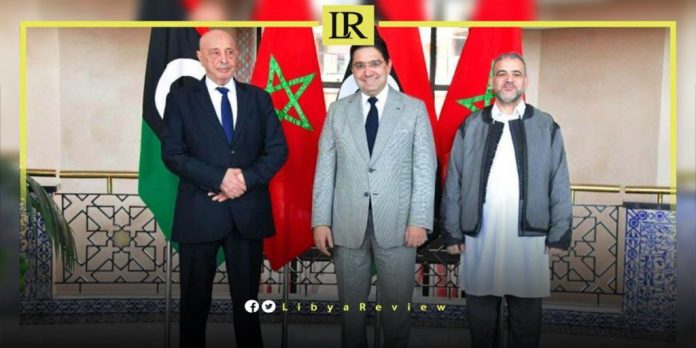 On Saturday, Chairman of the African Union Commission, Moussa Faki praised Friday's meeting between Libya's rival factions in Morocco.
In a tweet, the African Union official said, "I welcome the meeting between Libya's President of Parliament and President of the High Council (HCS) in Morocco, and hope that it augurs a political dialogue for the solution of the institutional impasse in Libya."
According to "The Africa Post," Ageela Saleh and Khaled Al-Mishri held talks in a bid to relaunch dialogue, and find a political solution to end the country's long-running crisis.
Speaking at a joint press briefing after the meeting, Saleh said that they agreed to implement the Bouznika mechanism related to the sovereign positions within the coming weeks, "but not later than the end of the year."
The mechanism was announced in a final statement by Libyan delegations at the end of a second round of dialogue in Bouznika, in October 2020.
It is related to criteria for appointments to leadership positions in the state's sovereign institutions. This includes the positions of Governor of the Central Bank of Libya (CBL), Head of the Audit Bureau, and Head of the Administrative Control Authority, among others.
Appointment to the positions requires the approval of two-thirds of the Members of Parliament.
The two parties also agreed "to ensure that there is a single executive power in Libya, as soon as possible" and the need to "relaunch dialogue to on the holding of Presidential and Parliamentary elections," Saleh said.
These elections need to respect "a clear roadmap and legislation, on the basis of which the polls will be held," he added during the press briefing held in the presence of the Moroccan Foreign Minister, Nasser Bourita.
Al-Mishri noted that the "splitting of institutions has only exacerbated the crisis, and it was imperative to unify them," stressing that it was agreed to "continue the agreement on the measures necessary to conduct elections as soon as possible."
"The unification of sovereign institutions and executive power will pave the way for the conduct of these events as soon as possible," Al-Mishri said.
He recalled the meeting held in Bouznika was applied to two sovereign positions out of seven.
"We will continue our meetings in Morocco during the next period, and will diligently follow the sound implementation of what has been agreed upon," he said.
They recalled Morocco's commitment to helping find a peaceful solution to the conflict, and emphasized the Kingdom's "support for Libya's unity and territorial integrity and its firm position against foreign interference in Libyan affairs."
Morocco hosted a series of roundtable talks between Libyan parties in Tangier and Bouznika.